JOYAL Grinder Plant Machine
Grinder Plant Machine feature high quality high efficiency good performance good aftersale service
Contact | Link To Product | More Products By This Company
Images
Click on an image to see larger size image ...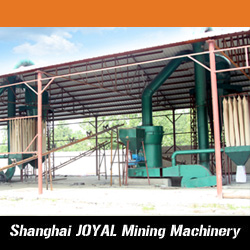 Specifications
| | | |
| --- | --- | --- |
| CQC | : | ISO9001:2008 |
| installation | : | as engineer assigned |
| motor | : | Chinese famous brand |
| warranty | : | 1 year |
| export countries | : | middle east, Africa, South America, Eastern Europe |
| spare parts supply | : | for the whole using life |
| aftersale service | : | for the whole using life |
Details
The Grinder Plant Machine is made of jaw crusher, bucket elevator, electrovibrating feeder, main unit, optional equipment, blower, centrally electric control system, etc. According to customer's specific requirement, we can choose high pressure suspension grinding mill or Ultrafine Mill.
Process Of Grinder Plant Machine:

Materials first enter jaw crusher to be crushed to smaller size. Then they are lifted to storage room by elevator. Vibrating feeder will feed materials into grinding chamber evenly and gradually. After being grinded, the powder will be blowed to cyclone by blower. Then the material will be transferred to storage room through pipes, and then will be discharged as final products. The whole process works in a negative pressure environment. First, through pipes, the air from the blower enters the cyclone collector above the storage room along with powder, and then returns to the blower through return pipe. In the way, air can be recycled. There is a powder locking equipment under the cyclone, which isolates the outside positive air pressure and the negative air pressure inside cyclone. And this ensures high productivity. In addition, the residual air and dust under the main unit will be transferred to dust catcher equipment through pipes and be cleaned there. The clean air will be discharged so that environment will be protected.
Tags
grinder machine, grinder plant, grinding mill
Disclaimer:
Submitters of product listings are solely responsible for their content. PRLog can't be held liable for the contents of the product listings.
Report Abuse