Model 4121 Automatic Fallback & Recovery A/B Switch
PathWay® Model 4121 Automatic Fallback and Recovery A/B Switch with Remote Managment Port senses data on A. When data activity is lost, switches to B. When data on A is sensed again, the switch recovers and switches back to A.
Contact | Link To Product | More Products By This Company
Images
Click on an image to see larger size image ...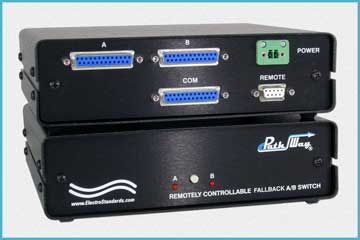 Specifications
| | | |
| --- | --- | --- |
| Port Connectors | : | (3) DB25 Female, A, B, COMMON |
| Front Panel Control | : | (1) Manual pushbutton |
| Display | : | (2) LED's: switch position & power status |
| Remote Control | : | (1) DB9F accepts ASCII RS232 Serial Data |
| Power | : | UL approved wallmount 120VAC, 60Hz |
| Dimensions: Desktop | : | 7.9"W x 2.0"H x 7.25"D. (20 x 5 x 18 cm) |
| Weight | : | Approx 2.8 lbs. (1.27 Kg) |
Details
The PathWay® Model 4121 Automatic Fallback Data Network Switch with Remote Management Port allows the user the capability of sharing a single DB25 interface device connected to the Common port among two other devices connected to the A and B ports.

How the Fallback and Recovery System Works:
The Model 4121 monitors data activity on port A. If activity is lost, the unit automatically switches to port B. The Model 4121 will maintain its connection to port B while data activity is not present on port A. At any point, if data activity is detected on port A, the unit will automatically return to the A position.

How To Override Automatic Fallback Operation:
The user can override automatic fallback operation from the front panel and force the unit to operate as an A/B switch. The user can monitor as well as control the unit remotely through the Remote DB9 port by way of RS232 commands.

Model 4121 Automatic Fallback A/B Switch Features:
Allows access to two networks from one COMMON network device.
Local control via front-panel pushbutton.
The REMOTE port accepts RS232 Serial Data ASCII commands for switch position control and monitoring.
Automatic Fallback Mode operates based on data monitoring on signal pins 2 and 3 of port A.
Switches pins 1-8, 11, 14-21, and 24 of the DB25 interface.
Transparent to data speed and format.
Front panel LED's display switch position and power status.
Retains last switch position even in the event of a power loss and continues to pass data.
Attractive anodized black box packaging provides EMI/RFI shielding.
Custom length DB25 cables available for your switch installation.
Municipalities, schools, government: On GSA Schedule!

Model 4121 Specifications:
PORT CONNECTORS: (3) DB25 female connectors labeled A, B, and COMMON.
FRONT PANEL CONTROL: (1) Manual pushbutton allows local switching.
DISPLAY: (2) Front panel LEDs display switch position and power status.
REMOTE CONTROL: (1) DB9 female connector on rear panel accepts ASCII RS232 Serial Data for Remote Control operation.
POWER: UL approved wall mount 120 VAC / 60 Hz power module supplies 12VDC, 500 mA to the unit.
DIMENSIONS: Desktop configuration 2.0" H x 7.9" W x 7.25" D (20.1 x 5.1 x 18.4 cm)
WEIGHT: Approximately 2.8 lbs. (1.27 Kg)

Option: Wide Range Power Supply: (Cat No. 517277) CE and UL listed table mount power module, 100VAC/240VAC, 50/60Hz in place of the standard 115 VAC or 120 VAC, power module. Ideal for international applications.

This high-quality network switch is available to city, state, and federal government purchasers at a discounted price and favorable payment and shipping terms via GSA Schedule GS-35F-0286V. For more information on the Model 4121 or any of the other copper or fiber optic network switches manufactured by Electro Standards, call 401-943-1164.
Tags
Automatic Switch, Fallback Switch, A/B Switch, AB Switch, Network Switch, computer switch, Data Switch, DB25 Switch
Disclaimer:
Submitters of product listings are solely responsible for their content. PRLog can't be held liable for the contents of the product listings.
Report Abuse