JOYAL Quarry Cone Crusher
Quarry Cone Crusher feature Simple structure Strong construction Long service life Easy operation save energy save electricity
Contact | Link To Product | More Products By This Company
Images
Click on an image to see larger size image ...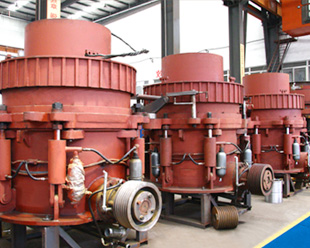 Specifications
| | | |
| --- | --- | --- |
| type | : | crusher |
| CQC | : | ISO9001:2008 |
| installation | : | as engineer assigned |
| motor | : | Chinese famous brand |
| aftersale service | : | for the whole using life |
| warranty | : | 1 year |
| spare parts supply | : | for the whole using life |
| export countries | : | middle east, Africa, South America, Eastern Europe |
Details
The Quarry Cone Crusher is widely used for secondary and fine crushing in the fields of mining, building materials, metallurgies and so on. The Quarry Cone Crusher can crush materials with middle and high hardness such as, ironstone, copper ore, granite, basalt, cobblestone, marble, limestone and so on. The Quarry Cone Crusher is popular to be used in high automatic crushing line which has strict requirement for finished products' shape and ratio.

Features Of The Quarry Cone Crusher in my company Shanghai Joyal Mining Machinery Co., Ltd.:

1. Three kinds of hydraulic protecting parts (protecting oilcan, locking oilcan and hydraulic driving oilcan) not only protect the machinery, but also can deal with troubles without disassembly the parts.
2. Easy operation, reliable performance and can adjust the finished products sizes automatically;
3. The crushing chamber is specially designed according to particles-layer- pressure principle. The special chamber and the suitable rotary speed improve crushing ratio and capacity, so does the cubic product percentage.
4. If something abnormal happens, such as iron is feed into the crushing chamber or there is a jam in the chamber, the machine will lift up the cover and discharging the materials automatically. This eliminates the trouble of stopping the machine to discharge the material by workers, so the maintenance is easier, the cost is lower than spring cone crusher.
5. The Quarry Cone Crusher is adjusted by hydraulic device and lubricated by diluted oil. The labyrinth seal eliminates the defect of mixture between water and oil in the traditional spring cone crusher.
6. The mantle and bowl liner are made by high manganese steel. The special design of crushing chamber and particles-layer- pressure protection can decrease the abrasion, make the service time 30%-80% longer than traditional cone crusher.

Main Specifications Of Quarry Cone Crusher:
Model Chamber Size (Coarse/Fine) Minimum Discharging Size (mm) Max Feeding Size (mm) Capacity (t/h) Weight (t) Power (kw)
HP-160 C 13 150 120-240 13 160
F 6 76 55-180
HP-220 C 13 225 150-430 18 220
F 6 86 90-260
HP-315 C 13 290 190-610 26 315
F 6 100 108-320
HP-400 C 16 320 230-700 33 400
Tags
quarry cone crusher, cone crusher, ore cone crusher, marble cone crusher, granite cone crusher, Crusher
Disclaimer:
Submitters of product listings are solely responsible for their content. PRLog can't be held liable for the contents of the product listings.
Report Abuse