dyed pearl and tibet silver flower necklace
Only 5.46 USD can you get this dyed pearl and tibet silver flower necklace. Get it at once.
Contact | Link To Product | More Products By This Company
Images
Click on an image to see larger size image ...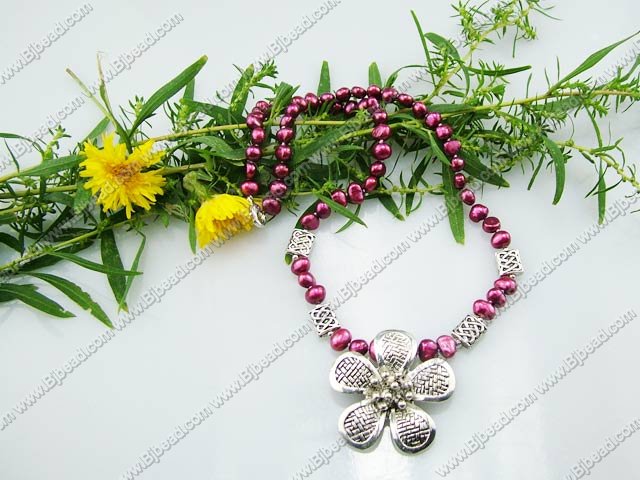 Specifications
| | | |
| --- | --- | --- |
| item Id | : | D1398 |
| Length | : | 18 inches |
| Size | : | 6-7-35 mm |
| Weight | : | 35g |
| catalog | : | pearl necklace |
Details
This lovely item is made of dyed pearl and silver flower accessories, The length is 18 inches, the size of the pearl is 6-7mm,

As the queen of gemstone, pearl is versatile and classic. pearl is always a worthwhile investment that can both soften formal suits and add more elegance to dresses. Like other precious gemstone, pearls are divided into several grades, with grade "A" in the best quality. Here are some instructions as to how to choose a grade "A" pearl.
First, you should learn how to distinguish real pearls from false ones. You may touch the pearl lightly with the biting edge of your front teeth, and real pearls feel slightly sandy rather than smooth. Another way is to examine and feel the pearl; those in flawless appearance and in lighter weight may not be real.
Second, choose a pearl shape. Since pearls are formed in distinctive pearl oysters that produce different kinds of excretion, pearls are in different shapes, including round pearl, coin pearl, drop pearl, oval pearl, and so on. Among all the shapes, the perfect round pearls are the most expensive.
Third, consider the pearl size. While round pearl is measured by its diameter, pearls in other shapes are measured by its shortest width. The larger the pearl, the dearer it is.
Fourth, inspect the pearl luster. Quality pearl should have a shiny surface and reflect the light well. It is also the best expression of a pearl's beauty.
Fifth, check the pearl colors. pearls are in different colors including white pearl, yellow pearl, black pearl, and so on. But it can be either natural pearl or dyed pearl; the natural colors are better and more expensive.

bjbead.com is engaged in jewelry, handmade jewelry, fashion jewelry, wholesale jewelry, handcrafted Jewelry, pearl jewelry, gemstone jewelry, discount jewelry, crystal jewelry, turquoise jewelry, necklace, bracelet, earrings, coral jewelry, shell jewelry and so on. You can always find the perfect jewelry what you need.
Tags
pearl necklace, pearl necklaces, pearl jewelry, necklace jewelry, fashion necklace, discount necklace, cheap necklace
Disclaimer:
Submitters of product listings are solely responsible for their content. PRLog can't be held liable for the contents of the product listings.
Report Abuse