used motor oil recycling machine==>Skype:oilrecycling
used motor oil recycling machine is mainly for regenerating the waste engine oil, this equipment can effective separate water, gas, particles
Contact | Link To Product | More Products By This Company
Images
Click on an image to see larger size image ...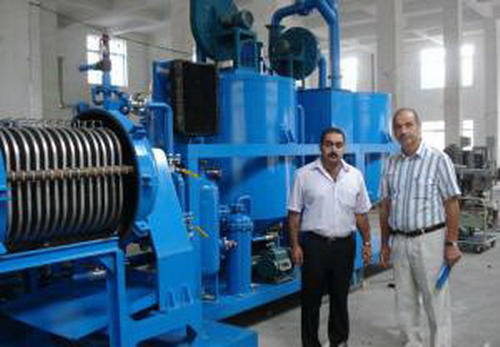 Specifications
| | | |
| --- | --- | --- |
| length | : | 120 |
| width | : | 160 |
| height | : | 150 |
| weight | : | 200 |
| capacity | : | 9000 |
Details
used motor oil recycling machine==>Skype:oilrecycling
engine oil regeneration system is mainly for regenerating the waste engine oil, this equipment can effective separate water, gas, particles, deeply oxides, free carbon, colloid, asphalt and wax from oil, making black engine oil become transparent golden color. This equipment has the functions of dewatering, degassing, decolor. Improving the engine oil's properties, restoring the oil's performance and lowering wear to ensure the engine can work normally and safely, prolonging the engine and engine oil lifetime.

Features:
1.Use of special chemicals to eliminate oil-ion's charge polarity, collecting oil-ions and separating out them, removing colloid, asphalt and other chemical compounds.
2.Gas treatment device combined with air filter and vacuum degassing, dewatering to remove the odor and water.
3.Closed type filtering system use stainless steel mesh, reliable, no pollution. Two filtering units can realize continuous production.
4.Vacuum degassing, dewatering, removing particles make sure effectively improve oil properties, restoring oil performance.
5.Efficient electric heating system, heating uniformity, less power consumption, safe, and reliable.
6.Compact structure, reasonable layout, small space applied, large output.
7.Imported Germany electric parts (such as SIEMENS, SCHNEIDER), good performance, safe and reliable.
Tags
used motor, used auto, motor oil filtration, auto oil filtering, oil purifier, oil purify, engine oil treatment, oil recycle, oil separator, oil processing
Disclaimer:
Submitters of product listings are solely responsible for their content. PRLog can't be held liable for the contents of the product listings.
Report Abuse