Kindle DX Wireless Reading Device, Free 3G, 9.7" Display, Graphite
All New, High Contrast E-Ink Screen: Our graphite Kindle DX uses our all new, improved electronic ink display, with 50% better contrast for the clearest text and sharpest images
Contact | Link To Product | More Products By This Company
Images
Click on an image to see larger size image ...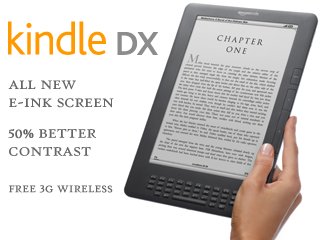 Specifications
| | | |
| --- | --- | --- |
| Display | : | 9.7" diagonal E Ink® |
| Size | : | 10.4" x 7.2" x 0.38" |
| Storage | : | 3,500 books |
| Free 3G Wireless | : | Global |
| Rotating Display | : | Auto-Rotation |
Details
All New, High Contrast E-Ink Screen: Our graphite Kindle DX uses our all new, improved electronic ink display, with 50% better contrast for the clearest text and sharpest images

Beautiful Large Display: The 9.7" diagonal E-ink screen is ideal for a broad range of reading material, including graphic-rich books, PDFs, newspapers, magazines, and blogs

Read in Sunlight with No Glare: Unlike backlit computer or LCD screens, Kindle DX's display looks and reads like real paper, with no glare. Read as easily in bright sunlight as in your living room

Slim: Just over 1/3 of an inch, as thin as most magazines

Books In Under 60 Seconds: Get books delivered wirelessly in less than 60 seconds; no PC required

Free 3G Wireless: No monthly payments, no annual contracts. Download books anywhere, anytime

Long Battery Life: Read for up to 1 week on a single charge with wireless on. Turn wireless off and read for up to two weeks.

Carry Your Library: Holds up to 3,500 books, periodicals, and documents

Buy Books Once, Read Them Anywhere: Kindle books can be read on all your devices. Our Whispersync technology saves and synchronizes your Kindle library and last page read across your Kindle(s), PC, iPhone, Mac, iPad, Android phone, and BlackBerry device

Social Networks: Share your passion for reading with friends and family by posting meaningful passages to Twitter and Facebook directly from your Kindle

Global Coverage: Enjoy 3G wireless coverage at home or abroad in over 100 countries.

Built-In PDF Reader: Carry and read all of your personal and professional documents on the go. Now with Zoom capability to easily view small print and detailed tables or graphics

Auto-Rotating Screen: Display auto-rotates from portrait to landscape as you turn the device so you can view full-width maps, graphs, tables, and Web pages

Read-to-Me: With the text-to-speech feature, Kindle DX can read newspapers, magazines, blogs, and books out loud to you, unless the book's rights holder made the feature unavailable

Large Selection: Over 620,000 books and the largest selection of the most popular books people want to read, including 109 of 112 New York Times® Best Sellers, plus U.S. and international newspapers, magazines, and blogs. For non-U.S. customers, content availability and pricing will vary.

Out-of-Copyright, Pre-1923 Books: Over 1.8 million free, out-of-copyright, pre-1923 books are available to read on Kindle, including titles such as The Adventures of Sherlock Holmes, Pride and Prejudice, and Treasure Island.

Low Book Prices: New York Times Best Sellers and New Releases from $9.99.

Free Book Samples: Download and read first chapters for free before you decide to buy
Tags
kindle, kindle store, Amazon Products, Wireless Reading, Reading-Device, electronics, global wireless
Disclaimer:
Submitters of product listings are solely responsible for their content. PRLog can't be held liable for the contents of the product listings.
Report Abuse