iPhone W995 Dual SIM
iPhone W995 Dual SIM Bluetooth2.0, FM radio, E-book reader, MP4, MP3, GSM, GPRS & WAP, Dual SIM card and dual standby Data transfer: Bluetooth2.0, USB, U disc
Contact | Link To Product | More Products By This Company
Images
Click on an image to see larger size image ...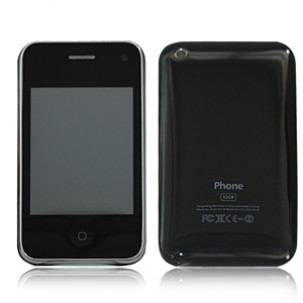 Specifications
| | | |
| --- | --- | --- |
| Louis Vuitton phone | : | www.2012phones.com |
| Porsche Phone | : | www.2012phones.com |
| Cartier Phone | : | www.2012phones.com |
| Rolex Phone | : | www.2012phones.com |
| Chanel Phone | : | www.2012phones.com |
Details
Paypal Accepted !
Contact us :
Email /MSn: Lynda.wholesale@hotmail.com
Main features:
Selling Point: Bluetooth2.0, FM radio, E-book reader, MP4, MP3, GSM, GPRS & WAP, Dual SIM card and dual standby.


The detailed parameters of Replica iPhone W995 Dual SIM are as follows:
Model name: Replica iPhone W995 Dual SIM
Frequency: 900/1800/1900 MHz GSM
Style: Bar Phone
Size: 9.5*5.5cm
Weight: 130g
Talk time: 200-380 m
Standby time: 5-8 days
Network: GSM, GPRS & WAP
Display: 3.1 Touch Screen
OS: MTK
Ringtone: 64 chord, mp3、mp4,midi
Color: black, white
Rom: up to 8 GB of expandable memory
Camera: Take photos on the 0.3 megapixel camera
Phonebook: 800 groups of phone books, caller Ring Tone, caller groups
Photo: jpg
Messaging: 300SMS,MMS
Music: MP3, support bluetooth, equalizer
Radio: FM Radio support
Video: 3GP,MP4
Data transfer: USB cable/Bluetooth/U disk
Power: support to start/close at set time with user-defined pictures
Alarm: 5 groups, can set from Mon to Sun at random
Games: common games
Languages: Chinese (Simplified),English, German, support other languages according to the quantity
More information: MP3/MP4/Handsfree/SMS group sending/Voice recorder/WAP/Handwritten input/Bluetooth/
GPRS download/MMS/Smart phone/Memory extended/E-book/Coming call firewall/E-dictionary/alarm clock/calculator/unit converter/stopwatch/world time/memo/schedule


Package Contains :
* 1 x Replica iPhone W995 Dual SIM
* 1 x earphones
* 1 x cable
* 1 x charger
* 2 x battery
* 1 x English manual

Attention Please:
1. All China Cell phones have passed through strict testing and inspection before ship out;
Tags
iPhone W995, Wholesale Iphones
Disclaimer:
Submitters of product listings are solely responsible for their content. PRLog can't be held liable for the contents of the product listings.
Report Abuse