Pelican 1460EMS Case
To offer EMS professionals a legendarily tough, portable medical supply protection solution, Pelican Products has introduced the 1460EMS Case.
Contact | Link To Product | More Products By This Company
Images
Click on an image to see larger size image ...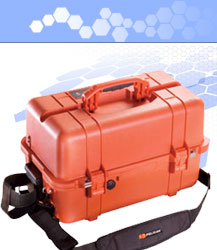 Specifications
| | | |
| --- | --- | --- |
| Weight | : | 18.2 lbs. (8.26 kg) |
| Exterior Dimensions | : | 20.85" x 12.73" x 12.75" |
| Interior Dimensions | : | 18.54" x 9.92" x 10.92" |
| Buoyancy Max. | : | . 82 lbs. (37.19 kg) |
| Colors | : | Orange or Black |
Details
Easily washed and sterilized, the1460EMS Case is engineered with an open cell-core wall, polymer construction that protects sensitive equipment from the harshest conditions in the world.

The 1460EMS Case features a three-level, fully customizable tray system that lifts out of the case on reinforced stainless steel brackets. It also offers a lockable tray section for secure controlled substance storage.

To ensure stability, the case lid opens 180 degrees to form a wide base when it's being used. For added security, the top tray and case lid work together as a seal that prevents tray compartment contents from spilling out into the case while it's being transported. For easy transport the case also comes with a nylon shoulder strap and a bracket/strap that allows the user to carry any sized sharps needle container (sold separately) along with the case. Medical Content not included.

Specifically designed in conjunction with Fire department and EMS personnel Lockable compartment for controlled substances
Adjustable tray dividers allow for easy customization
Sharps storage bracket included
Top lid opens up to 180° for on-the-field anti-roll stability when open
O-ring seal for dust and water resistant seal (IP66)
Easy open Double Throw latches
Open cell core with solid wall design - strong, light weight
Automatic Pressure Equalization Valve
Comfortable rubber over-molded handles
Stainless steel hardware and padlock protectors
Personalized nameplate service available
Lifetime Guarantee of Excellence
Each tray has an overall internal dimension of: 17" x 7.65" x 1.36" (43.18 x 19.43 x 3.45cm) LxWxD
Also available with without EMS Organizer and Dividers

You break it, we replace it... forever.™
Tags
Quickpro Gear, Pelican products, pelican cases, Case, cases
Disclaimer:
Submitters of product listings are solely responsible for their content. PRLog can't be held liable for the contents of the product listings.
Report Abuse