Callaway X-22 Iron Set 3-9PS
The Callaway X-22 Irons are the best Callaway X-Series Irons ever made. The X-22 Irons offer a larger sweet spot, less vibration and more forgiveness on off-center strikes. The Callaway X-22 Irons at golfsalestore.com comes with free shippings.
Contact | Link To Product | More Products By This Company
Images
Click on an image to see larger size image ...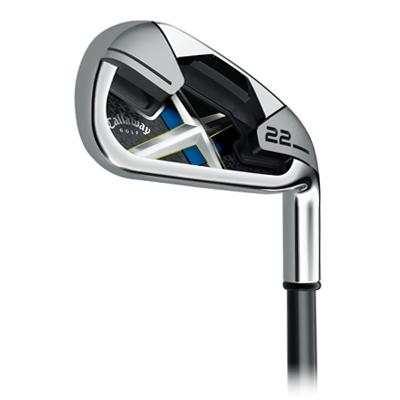 Specifications
| | | |
| --- | --- | --- |
| Setup | : | 3-9PS |
| Flex | : | Regular/Stiff |
| Shaft | : | Graphite/Steel |
| Shaft Brand 1 | : | True Temper Dynamic Gold Steel shaft |
| Shaft Brand 2 | : | Callaway Golf Men X-22 Graphite |
| Total | : | $294.99 |
Details
Callaway X-22 Irons set on www.golfsalestore.com

The legendary performance of the X Series in a new iron with even more forgiveness.
The goal of Callaway's X-Series Irons has always been lofty: Set the performance standard for the industry. Callaway has done it again with theCallaway X-22 Irons set, the best X-Series Irons Callaway has ever made. The perimeter weighting of the Callaway X-22 Irons set has been maximized for a moment of inertia (MOI) that's 10 percent higher than their predecessors, meaning you get more forgiveness on off-center strikes. The ideal center of gravity position has been preserved, generating optimal ball-flight trajectories. Callaway has also incorporated the Modified Tru-Bore design, dampening vibration for enhanced feel. The tour-inspired head shape has a slightly thinner top line and sole with a large sweet spot for improved aesthetics and forgiveness to boost your confidence.

Precision Notch Weighting
Precisely positions more weight to the perimeter of the iron to create a higher moment of inertia (MOI) for greater forgiveness and stability while maintaining the center of gravity position that produces ideal trajectories and feel.

Tour-Inspired Head Shape
Callaway engineers took elements designed for Tour players, like a thinner top line and narrower sole, and incorporated them into highly forgiving irons with a higher MOI so they can be played by a wide range of golfers.

Modified Tru-Bore
An advanced version of the original Tru-Bore design, the polycarbonate tip plug at the end of the shaft dampens vibration for enhanced feel and performance.

VFT Technology
VFT Technology maximizes ball speed and perimeter weighting for more distance and forgiveness; S2H2 increases discretionary weight by removing it from the hosel and repositioning it in the perimeter of the club head; 360-Degree Undercut Channel maximizes perimeter weighting by moving the CG lower and farther back in the club head, enlarging the hitting area and stabilizing the club head for more forgiveness.
Tags
Callaway Irons, wholesale golf, golf clubs, Iron Set
Disclaimer:
Submitters of product listings are solely responsible for their content. PRLog can't be held liable for the contents of the product listings.
Report Abuse