Optimum Serious Mass
Serious Mass: the ULTIMATE in weight gain formulas. Serious Mass supplies you with the tools you need to pack on the pounds and develop the physique you've always wanted.
Contact | Link To Product | More Products By This Company
Images
Click on an image to see larger size image ...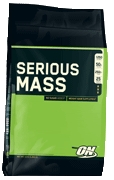 Specifications
| | | |
| --- | --- | --- |
| Calories | : | 1250 |
| Calories from Fat | : | 40 |
| Total Fat | : | 4.5g |
| Saturated Fat | : | 3g |
| Cholesterol | : | 75mg |
Details
Product Description

Serious Mass: the ULTIMATE in weight gain formulas. Serious Mass supplies you with the tools you need to pack on the pounds and develop the physique you've always wanted.

ON's Serious Mass is formulated for athletes who are serious about packing on quality mass. Each great-tasting serving delivers over 1,250 nutrient packed calories built on a foundation of 50 grams of muscle building protein from high-quality sources including Ultrafiltered Whey Protein Concentrate, Calcium Caseinate, and Egg Albumen. A combination of low glycemic carbohydrates and MCTs will fuel your body with enough energy to carry you through even the most demanding workouts. In addition, Creatine Monohydrate and Glutamine have been added to help optimize each strength-training workout, while a complete Vitamin and Essential Mineral profile insures your body gets the balanced nutrition it needs.

Beyond The Basics

* Adding Calories Has Never Been This Easy or Tasted So Good
* 1,250 CALORIES
* 50 g of BLENDED PROTEIN
* Over 250 g of Carbohydrates with NO ADDED SUGAR
* Enhanced with Creatine, Glutamine, and Glutamine Peptides
* 25 Vitamins and Essential Minerals

Nutritional Details
Calories 1250
Calories from Fat 40
Total Fat 4.5 g
Saturated Fat 3 g
Cholesterol 75 mg
Total Carbohydrate 252 g
Sugars 40 g
Protein 50 g
Vitamin C 60 mg
Vitamin D 200 I.U.
Vitamin E 30 I.U.
Thiamin 5 mg
Riboflavin 5 mg
Niacin 50 mg
Vitamin B6 5 mg
Folic Acid 400 mcg
Vitamin B12 20 mcg
Biotin 300 mcg
Pantothenic Acid 100 mg
Calcium 730 mg
Iron 6 mg
Phosphorus 350 mg
Iodine 75 mcg
Magnesium 186 mg
Zinc 30 mg
Selenium 200 mcg
Copper 1 mg
Manganese 10 mg
Chromium 600 mcg
Molybdenum 150 mcg
Sodium 600 mg
Potassium 1230 mg
Choline 250 mg
Inositol 250 mg
PABA 5 mg
Creatine Monohydrate 1 g
L-Glutamine 500 mg

Ingredients:
Complex Carbohydrates, Proprietary Protein Blend (Whey Protein Concentrate, Calcium Caseinate, Egg Albumen, L-Glutamine), Artificial Flavor, Serious Mass Vitamin & Mineral Blend (Potassium Phosphate, Choline Bitartrate, Magnesium Aspartate, Beta Carotene, Inositol, d-Calcium Pantothenate, Zinc Citrate, Ascorbic Acid, Boron Amino Acid Chelate, Niacinamide, Manganese Glycinate, Kelp, d-alpha Tocopherol Succinate, Ferrous Fumarate, Copper Gluconate, Thiamin Mononitrate, Riboflavin, Pyridoxine Hydrochloride, Para-Aminobenzoic Acid, Chromium Picolinate, Selenium Glycinate, Molybdenum Glycinate, Vitamin D3, Folic Acid, Biotin, Cyanocobalamin), Medium Chain Triglycerides, Creatine Monohydrate, Acesulfame Potassium. (Vanilla shown. Slight variations may occur among flavors.)

Directions of Use
Add 2 heaping scoops of Serious Mass to a large blender filled with 24 oz. of cold water or milk. Blend on high for 45 seconds or until thoroughly mixed. For maximum weight gain, take three servings daily; one in the morning, another in the afternoon, and a final serving at bedtime (20-30 minutes before going to sleep).
Tags
Optimum Serious Mass, Serious mass, Weight gainer, bodybuidling
Disclaimer:
Submitters of product listings are solely responsible for their content. PRLog can't be held liable for the contents of the product listings.
Report Abuse