ON 100% Whey
Whey Protein Isolates are 90% pure protein by weight. They are the purest and most expensive form of whey protein that exists.
Contact | Link To Product | More Products By This Company
Images
Click on an image to see larger size image ...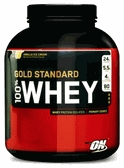 Specifications
| | | |
| --- | --- | --- |
| Fat | : | 2% |
| Cholestrol | : | 10% |
| Sodium | : | 3% |
| Total Carbs | : | 1% |
| Protein | : | 4 |
Details
Whey Protein Isolates are 90% pure protein by weight. They are the purest and most expensive form of whey protein that exists. That's why they are the first ingredients you read on the 100% Whey Gold Standard label. By using Whey Protein Isolates as our primary protein source, we're able to pack 24 grams of the purest, muscle-building protein per serving, with a lot less of the fat, cholesterol, lactose, and other stuff that you can do without. There's no question this is the standard by which other whey proteins are measured.


Beyond The Basics

1. Packed with Whey Protein Isolates
2. Higher Pure Protein Percentage
3. Fast-Acting HYDROWHEY Whey Peptides
4. Provides Whey Protein Microfractions
5. More than 5 grams of BCAAs
6. Over 4 grams of Glutamine & Precursors
7. Instantized to Mix with a Spoon

Optimum Nutrition's 100% Whey Protein contains 22 grams of protein, with only 2-3 grams of carbohydrates, 1.5 grams of fat and minimal lactose, the choice of brand is clear, now to decide what flavor and size!

100% Whey Protein is made from Microfiltered Whey Protein Isolates, Ion Exchange Whey Protein Isolates, Ultrafiltered Whey Protein Concentrate, and HYDROWHEY Hydrolyzed Whey Peptides. This combination gives you more of what you want (pure, unadulterated whey protein) with less of what you don't won't (fat, saturated fat, cholesterol, lactose, and other carbohydrates) with every serving. 100% Whey Protein provides the perfect balance of Essential and Non-Essential Amino Acids including a high concentration of Branch Chain Amino Acids.

This improves nitrogen retention and muscle growth. 100% Whey Protein now contains Lactase and Aminogen digestive enzymes to further enhance absorption and make this product even more friendly to lactose intolerant individuals. 100% Whey Protein is an instantized formula that mixes easily with a spoon, and tastes delicious mixed with skim milk or water. For added protein, try mixing one scoop with your oatmeal, yogurt, muffins, or pancake recipes.

Directions of Use
Serving Size: 1 scoop (28.4 g)

Chocolate: 77 servings
Vanilla: 80 servings
Strawberry: 80 servings

Suggested Use: To encourage a positive nitrogen balance, consume approximately 1 gram of protein per pound of body weight per day from a combination of high protein foods and supplements. For even better results, consume your daily protein allotment over 4-6 small meals spread evenly throughout the day
Tags
Optimum Nutrition100, ONWhey Gold Standard, 100% whey goldstd, 100% whey
Disclaimer:
Submitters of product listings are solely responsible for their content. PRLog can't be held liable for the contents of the product listings.
Report Abuse