MS-451-PV medical device pouch sealer and testing unit
The new MS-451PV medical pouch sealer not only represents one of the most advanced sterile bag/pouch sealers in our industry, it is literally contains a quality program under its lid.
Contact | Link To Product | More Products By This Company
Images
Click on an image to see larger size image ...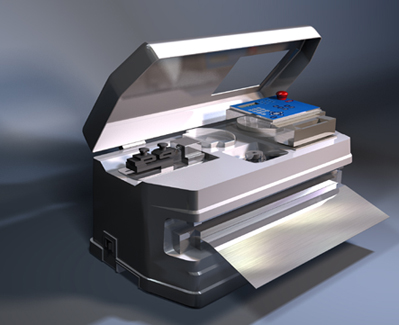 Video
Specifications
| | | |
| --- | --- | --- |
| Power - | : | AC 110V, 60HZ |
| Power cord - | : | 3 plug with earth, 3m cord |
| Machine dimension - | : | 630mm × 340mm × 300mm |
| Weight - | : | 36kg |
| Selectable Units - | : | Kg, Lb or N (N, Newton default) |
Details
Redlands, Calif. - This innovative new medical device packager will change the way medical device companies manage their sterile packaging program. With advanced integration, medical device quality teams can now manage in-process visual inspection and destructive testing on one integrated packaging machine. The MS-451PV medical pouch sealer controls all critical packaging attributes in order to ensure seal-to-seal consistency. An advanced transducer manages platen pressure that electronically feeds back data to the microprocessor in real time.

The MS-451PV medical device bag sealer also manages the platen's thermal environment with a K-type thermocouple that is configured to sample pouch environment. But the MS-451PV does much more. This advanced system allows quality teams to program required stop and test functions into the machine. This function will automatically stop production, prompting the operator to perform first a visual seal inspection with our low angle of light 3x magnification visual inspection tester.

Van der Stahl Scientific is an innovative medical device packaging technology group based in Redlands, California. Van der Stahl Scientifics' corporate mission is to provide patented technologies to serve the challenging sterile packaging industry and regulatory requirements of the food and Drug Administration and ISO. Van der Stahl Scientific serves most of the major medical device manufacturers such as Medtronics and Boston Scientific as well as non-medical firms such as the Department of Defense and NASA.
Tags
Device Packaging, sterile packaging, heat sealer, astm 1886, medical pouch test, seal integrity, medical sealer, tensil testing, peel testing, impuse sealer
Disclaimer:
Submitters of product listings are solely responsible for their content. PRLog can't be held liable for the contents of the product listings.
Report Abuse