9700 Black OEM Housing for BlackBerry Bold 9700 9020 Onyx
Use High Quality BlackBerry Bold 9700 Full Housing Cover Faceplate Black to change your broken or scratched BlackBerry Bold 9700 face housing, Make your BlackBerry Bold 9700 look Original
Contact | Link To Product | More Products By This Company
Images
Click on an image to see larger size image ...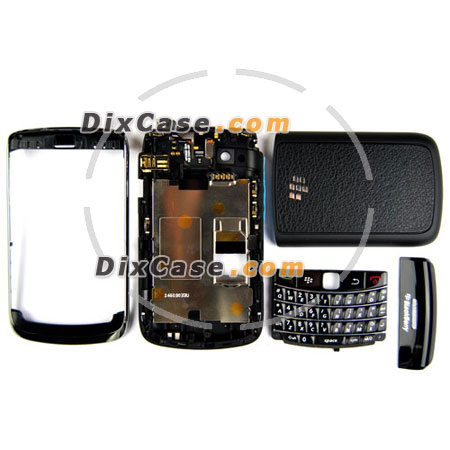 Specifications
| | | |
| --- | --- | --- |
| price | : | $39.85 |
| color | : | black |
| 9700 housing | : | original |
| weight | : | 120g |
| Housing cover | : | fit 9700 9020 Onyx |
Details
Use High Quality BlackBerry Bold 9700 Full Housing Cover Faceplate Black to change your broken or scratched BlackBerry Bold 9700 face housing, Make your BlackBerry Bold 9700 look Original brand new after replace the new 9700 Housing Cover. This 9700 Housing Faceplate Cover includes the Middle parts(the middle parts includes Battery Connector, Camera Flash, Loudspeaker, Earspeaker, Flex Cable, Charging Dock Connectors, Antennas, Side Buttons), the parts as in the pictures.
Note: This BlackBerry Bold 9700 Housing Faceplate does not come with how to replace BlackBerry Bold 9700 Housing instrucionts, Dixcase.com not be held responsible for any damages to your cellphone/mobile phone that you may cause during the changing of BlackBerry Bold 9700.


Condition: New, Brand new full Housing Cover for BlackBerry Bold 9700
Innovative high quality, Durable material.
This is OEM BlackBerry Bold 9700 Housing Cover Replacement Cover for BlackBerry Bold 9700.
Restore Your BlackBerry Bold 9700 to its original look with this new BlackBerry Bold 9700 Housing Cover Replacement.
Universal Standard case Fit BlackBerry Bold 9700 perfectly
The Package Not provide installation manual
Have a NEW look of the phone by little money
This BlackBerry Bold 9700 Housing Cover Come with the 9700 keyboard.
Color: Black
You can search 9700 view other Colors for sale on Dixcase.com
Friendly Reminder: The 9700 Housing Cover Parts shown in photo will only be included. For some parts, we advise customer to use the parts from your original phone.
Compatible with:
BlackBerry Bold 9700 9020 Onyx
(Search BlackBerry Bold 9700 to buy other accessories for BlackBerry Bold 9700 on Dixcase.com)
Package:
1 x BlackBerry Bold 9700 Housing Cover Black
1 x Front/Bezel Cover
1 x back Cover
1 x Middle Plate with parts
1 x Keypad/keyboard
1 x other buttons
1 x Open tools for BlackBerry Bold 9700 Housing Replacement Case
Tags
9700 housing, 9020 housing, original Housing, Housing Cover, 9700 housing case
Disclaimer:
Submitters of product listings are solely responsible for their content. PRLog can't be held liable for the contents of the product listings.
Report Abuse