Rome Photography-Tour
English-speaking photographers have in-depth local knowledge, a passion for their city & for the art of photography. The photographers are carefully selected for their breadth of style and experience in either travel or photo-documentary/reportage.
Contact | Link To Product | More Products By This Company
Images
Click on an image to see larger size image ...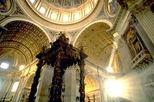 Video
Specifications
| | | |
| --- | --- | --- |
| Duration | : | 3 hours |
| Small Group Tour | : | Maximum 6 people |
| Inclusions | : | Professional photographer guide |
| Price | : | From €99,00 |
| Focus Points | : | lighting , atmosphere & composition |
Details
The Colosseum-to-Pantheon Photo tour offers participants an authentic city adventure and rare opportunity to experience Rome from an insiders point of view.

This photo walking tour of Rome will point out details invisible to the untrained eye and reveal the best vantage-points on your chosen route.

Learn to tell a story through images, take great shots of iconic monuments and capture atmospheric images off the beaten track.

Discover and experience Rome through one of the following routes:

* Ancient Rome Tour at 9am- Coloseum, Pantheon, Campidoglio (Capital Hill) Theatre of Marcellus, Ghetto, Tortoise Fountain

* Vatican Route Tour at 3pm- Pantheon, Saint Peters, Piazza Navona, Ponte Sant Angelo and Castel Sant Angelo

* Rome Grand Tour at 9am- Campidolio Piazza Navona Pantheon, Temple Adriano, Trevi Fountain, Spanish Steps, Villa Medici, Piazza dei Popolo from Pincio

* Hidden Rome Tour at 9am- Ponte Sant'Angelo, Piazza Navona and Piazza Pasquino, Piazza Farnese, Campo di Fiori, Palazzo Spada and Trastevere with its labyrinth of streets and Piazza Santa Maria

So bring your camera and be prepared to walk, shoot and click.
Tags
Rome Photo-Tour, Colosseum-Pantheon
Disclaimer:
Submitters of product listings are solely responsible for their content. PRLog can't be held liable for the contents of the product listings.
Report Abuse