Hp Compaq Laptop Keyboard for Business Notebook nx9000, Presario 2100, 2500
Laptop Keyboard Designed for Hp Compaq Business Notebook nx9000, Presario 2100, 2500 - Laptop Accessories
Contact | Link To Product | More Products By This Company
Images
Click on an image to see larger size image ...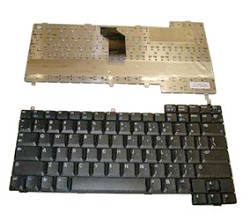 Specifications
| | | |
| --- | --- | --- |
| Performance | : | Comfortable and Durable |
| Brand | : | Dekcell |
| Condition | : | Brand-new |
| Warranty | : | 6 months warranty |
| Delivery | : | Fast Shipping |
Details
Brand New, Original Hp/Compaq Laptop Keyboard with ribbon cable. (US Standard) Compatible HP/Compaq Part Number: K022546A1 US, Compatible with 317443-001

THis replacement laptop keyboard is designed for the following laptop computers: Presario 2100 Series: 2100, 2100AP, 2100CA, 2100LA, 2100T,

2100US, 2100Z, 2101AP, 2101US, 2102EA, 2102US, 2103AP, 2105CA, 2105dk, 2105EA, 2105US, 2106AP, 2107AP, 2107EA, 2108AP, 2108EA,

2109EA, 2110CA, 2110LA, 2110US, 2113AP, 2114EA, 2115AP, 2115EA, 2117EA, 2118EA, 2120AP, 2120EA, 2120LA, 2120us, 2123, 2123AP,

2124AP, 2125, 2125AP, 2125EA, 2126AP, 2126dk, 2126EA, 2127EA, 2128EA, 2130AP, 2130EA, 2131EA, 2132AC, 2133, 2133AC, 2134dk,

2134EA, 2135AC, 2135AD, 2135AP, 2135CA, 2135EA, 2135US, 2136AD, 2136EA, 2137AD, 2137EA, 2138AD, 2138EA, 2139AD, 2140CA, 2140US,

2141EA, 2142EA, 2143AP, 2144EA, 2145AP, 2145CA, 2145US, 2148AP, 2150AP, 2150US, 2155US, 2157EA, 2158EA, 2161US, 2162US,

2169EA, 2170CA, 2170US, 2171US, 2172EA, 2172US, 2175CA, 2175US, 2180CA, 2195US 2500 Series: 2500AP, 2500LA, 2500CTO, 2505AP,

2510AP, 2510EA, 2510LA, 2511EA, 2515AP, 2516dk, 2516EA, 2520AP, 2520EA, 2520LA, 2521EA, 2525CA, 2525US, 2526EA, 2528AP, 2528CL,

2529EA, 2535AP, 2538CL, 2539EA, 2540AP, 2545US, 2548EA, 2550AP, 2550CA, 2550EA, 2555AP, 2555US, 2561US, 2566AP, 2568AP,

2568CL, 2570CA, 2570US, 2575US, 2580US, 2581US, 2585USHP Pavilion ze4000, Pavilion ze4900 Series: ze4000, ze4100, ze4101, ze4102,

ze4103s, ze4105s, ze4111s, ze4115, ze4120s, ze4123, ze4123s, ze4125, ze4130, ze4133, ze4140, ze4145, ze4200, ze4201, ze4204s,

ze4207, ze4208s, ze4209, ze4210, ze4211, ze4212s, ze4214s, ze4218, ze4219, ze4220, ze4221, ze4222, ze4222AP, ze4224, ze4228,

ze4229, ze4230, ze4231, ze4232s, ze4234s, ze4236, ze4239, ze4240, ze4241, ze4251, ze4257EA, ze4258, ze4261, ze4262, ze4268,

ze4271, ze4274s, ze4278, ze4281, ze4282, ze4284, ze4288, ze4292, ze4294, ze4298, ze4300, ze4301, ze4302, ze4305EA, ze4306WM,

ze4307LA, ze4308EA, ze4310, ze4310EA, ze4311, ze4312, ze4313, ze4314, ze4315, ze4315CA, ze4315US, ze4316, ze4317, ze4317EA,

ze4318, ze4318EA, ze4319, ze4320EA, ze4321, ze4321EA, ze4322EA, ze4323EA, ze4325CA, ze4325EA, ze4325US, ze4326, ze4328US, ze4332EA,

ze4333EA, ze4334EA, ze4335EA, ze4335US, ze4336EA, ze4345EA, ze4345US, ze4347EA, ze4348EA, ze4349EA, ze4351EA, ze4352EA, ze4353EA,

ze4354EA, ze4355EA, ze4355US, ze4356EA, ze4357EA, ze4358US, ze4360EA, ze4365US, ze4367EA, ze4375EA, ze4384EA, ze4385EA, ze4386EA,

ze4400, ze4401US, ze4402US, ze4403EA, ze4404EA, ze4405EA, ze4407EA, ze4408EA, ze4409EA, ze4410AK, ze4410AP, ze4410CA, ze4410EA,

ze4411AP, ze4412AP, ze4413AP, ze4414AP, ze4414EA, ze4415AP, ze4415EA, ze4416AP, ze4416EA, ze4417EA, ze4420CA, ze4420US, ze4423EA,

ze4424EA, ze4424US, ze4425EA, ze4427WM, ze4428EA, ze4430US, ze4453EA, ze4454EA, ze4455EA, ze4500, ze4501US, ze4502US, ze4504EA,

ze4505EA, ze4507EA, ze4508EA, ze4509EA, ze4510AP, ze4510EA, ze4510OM, ze4511EA, ze4512EA, ze4513EA, ze4514EA, ze4516EA, ze4518EA,

ze4519EA, ze4520AP, ze4520EA, ze4521AP, ze4521EA, ze4522AP, ze4522EA, ze4523AP, ze4523EA, ze4524EA, ze4525EA, ze4525US, ze4526EA,

ze4530US, ze4540CA, ze4540US, ze4545US, ze4546SR, ze4547WM, ze4550ST, ze4560US, ze4565QV, ze4600, ze4601US, ze4603EA, ze4604EA,

ze4605EA, ze4610EA, ze4610US, ze4612EA, ze4614EA, ze4615EA, ze4630US, ze4715EA, ze4718EA, ze4725EA, ze4105, ze4111, ze4130s,

ze4133s, ze4202s, ze4202ze, ze4204, ze4206s, ze4207s, ze4208, ze4214se, ze4301ap, ze4302ap, ze4310AP, ze4311AP, ze4312AP, ze4314ap,

ze4315ap, ze4316ap, ze4318AP, ze4318us, ze4337ea, ze4348ae, ze4357ae, ze4360ae, ze4385ae, ze4406ea, ze4422ea, ze4523, ze4545sr,

ze4547us, ze4700, ze4700us, ze4710EA, ze4717EA, ze4719EA, ze4728EA, ze4800, ze4801ea, ze4803us, ze4805us, ze4805wm, ze4810US,

ze4815ea, ze4819ea, ze4820ea, ze4821ea, ze4828ea, ze4900, ze4901, ze4901us, ze4902, ze4902ea, ze4903ea, ze4903us, ze4904ea,

ze4904us, ze4905ea, ze4906ea, ze4906us, ze4907ea, ze4907wm, ze4908ea, ze4908us, ze4910ea, ze4910la, ze4910us, ze4911ea, ze4911us,

ze4912ea, ze4913ea, ze4914ea, ze4915ea, ze4916ea, ze4917ea, ze4918ea, ze4919cl, ze4920ea, ze4920la, ze4921ea, ze4922ea, ze4923ea,

ze4925ea, ze4926ea, ze4927ea, ze4928ea, ze4929ea, ze4930ea, ze4930la, ze4930us, ze4931ea, ze4932ea, ze4933ea, ze4933us, ze4934ea,

ze4935, ze4935ea, ze4935wm, ze4935wm-b, ze4936ea, ze4937ea, ze4938ea, ze4939ea, ze4940ea, ze4940la, ze4941ea, ze4941us, ze4942ea,

ze4942us, ze4943ea, ze4944EA, ze4945ea, ze4946CL, ze4946ea, ze4947EA, ze4947wm, ze4948ea, ze4949EA, ze4949us, ze4950ea, ze4951EA,

ze4952EA, ze4953ea, ze4954EA, ze4955ea, ze4956EA, ze4957EA, ze4958EA, ze4960ea, ze4961ea, ze4962EA, ze4965ea, ze4995ea HP ze5000 ~

ze5700 Series: ze5000, ze5100, ze5155, ze5160, ze5165, ze5170, ze5185, ze5190, ze5200, ze5207, ze5217, ze5228, ze5232, ze5236,

ze5238, ze5240, ze5242, ze5244, ze5250, ze5252, ze5258, ze5262, ze5270, ze5279, ze5300, ze5307LA, ze5315EA, ze5320AP, ze5320EA,

ze5325EA, ze5339EA, ze5343EA, ze5344EA, ze5345EA, ze5345US, ze5354EA, ze5357LA, ze5360EA, ze5362EA, ze5365US, ze5375US, ze5385CA,

ze5385US, ze5395US, ze5400, ze5407LA, ze5410AP, ze5413EA, ze5414EA, ze5415AP, ze5415EA, ze5416EA, ze5417LA, ze5418EA, ze5420EA,

ze5425EA, ze5426EA, ze5427LA, ze5430EA, ze5440EA, ze5443EA, ze5445EA, ze5446EA, ze5447LA, ze5451US, ze5457LA, ze5460EA, ze5460US,

ze5462EA, ze5467LA, ze5468CL, ze5470US, ze5475CA, ze5477LA, ze5477WM, ze5478CL, ze5490US, ze5497LA, ze5500, ze5501US, ze5504EA,

ze5505EA, ze5506EA, ze5507EA, ze5510AP, ze5510EA, ze5511AP, ze5511EA, ze5512AP, ze5512EA, ze5513AP, ze5514AP, ze5515AP, ze5515EA,

ze5516AP, ze5516EA, ze5517AP, ze5517EA, ze5518AP, ze5519AP, ze5519EA, ze5520EA, ze5521AP, ze5521EA, ze5522AP, ze5523AP, ze5523EA,

ze5524AP, ze5524EA, ze5525AP, ze5525EA, ze5526AP, ze5526EA, ze5527EA, ze5528EA, ze5529EA, ze5530EA, ze5531EA, ze5532EA, ze5533EA,

ze5534EA, ze5535EA, ze5537LA, ze5547WM, ze5560US, ze5565QV, ze5568CL, ze5570US, ze5575SR, ze5580US, ze5587LA, ze5590US, ze5600,

ze5601AP, ze5601EA, ze5602AP, ze5602EA, ze5602us, ze5603AP, ze5603EA, ze5604AP, ze5604EA, ze5604RS, ze5605AP, ze5605EA, ze5605SR,

ze5607EA, ze5607WM, ze5608AP, ze5609AP, ze5609EA, ze5610AP, ze5610CA, ze5610EA, ze5611AP, ze5611EA, ze5612AP, ze5612EA, ze5613AP,

ze5613EA, ze5614AP, ze5614EA, ze5615AP, ze5615CA, ze5615EA, ze5615SR, ze5616AP, ze5616EA, ze5617AP, ze5617EA, ze5617WM, ze5618EA,

ze5619EA, ze5620EA, ze5620US, ze5622EA, ze5623EA, ze5624EA, ze5626EA, ze5630US, ze5631EA, ze5635EA, ze5636EA, ze5637LA, ze5638EA,

ze5640EA, ze5645EA, ze5647LA, ze5701us, ze5731us, ze5738rs, ze5739cl Business Notebook nx9000 Series: Business Notebook nx9000, Business

Notebook nx9000US, Business Notebook nx9005, Business Notebook nx9005US, Business Notebook nx9008, Business Notebook nx9010, Business Notebook nx9010US
Tags
hp laptop keyboard, hp 2100 keyboard, hp 2500 keyboard, hp nx9000 keyboard, laptop keyboard, notebook keyboard
Disclaimer:
Submitters of product listings are solely responsible for their content. PRLog can't be held liable for the contents of the product listings.
Report Abuse