lubricating oil recycling machine/lube oil purification plant
Series TYA vacuum lube oil purifier is mainly for purifying unqualified lubricating oil, hydraulic oil, compressor oil, refrigeration oil and other industrial oils
Contact | More Products By This Company
Images
Click on an image to see larger size image ...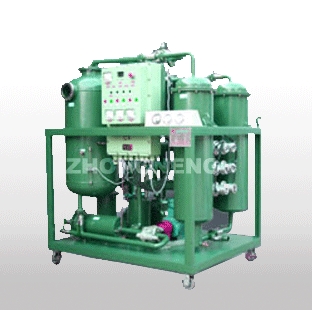 Specifications
| | | |
| --- | --- | --- |
| flow rate | : | 300L/m |
| vacuum degree | : | -0.03mpa |
| water content | : | 3PPM |
| gas content | : | 3% |
| continuous working | : | 150H |
Details
Contact person:lily
Email:lfywo@yahoo.com.cn
Tel:+86-023-68681153
Mobile:+86-15909333942
msn:oil purifier lily2010@live.cn
skype:sweetlily20101
FAX:0086-23-68060921
Application:
Series TYA vacuum lube oil purifier is mainly for purifying unqualified lubricating oil, hydraulic oil, compressor oil, refrigeration oil and other industrial oils, this machine can rapidly separate water, gas, particles and volatile matter (such as alcohol, gasoline, ammonia, etc.) from oil, restoring oil viscosity, flash point and performance. The treated oil can reuse again in various industrial equipments. It is widely applied in petroleum, chemical, mining, metallurgy, electric power, transportation, machinery manufacturing, railway etc.

Features:
1. Double primary-filter structure, large capacity for holding particles, Multi-stage filtration system to ensure high filtration precision.
2. Special polymer materials as filter medium with the functions of broken emulsion, dewatering, removing particles
3. Efficient electric heating system, heating uniformity, less power consumption, safe, and reliable.
4.Adopts interlocked protective system, which connect oil pump, heater and liquid level sensor, avoiding blank heating, blank pumping, oil leak and electricity leak. If there is any fault, machine will be power off automatically.
5. Rapid speed for dewatering, degasify and removing impurities from waste high viscosity lube oil used for lubricating equipments, and after treatment, the treated oil can reach to cleanness NAS 6.
6. Adopt advanced technology for combination of coalescing separation and vacuum dewatering, to get the high precise of water and gas content.
7. Newly developed auto double-infrared fluid level control system, replace of manual or floating ball valve control, to ensure operation safety of this model.
8. Automatic back-flushing system, can clean the filters by the machine itself, to timely maintain the filters and extend its service life.
9. Carbon fiber infrared heating system not only can heat the oil equably and rapidly, but also a environment-friendly way for oil heating.
This machine adopts the international advanced neon-molecular materials broken emulsion technology, that can make the lubricating oil with low emulsification value, few water content and very little impurities with high precision, so that the oil is good enough to be re-used repeatedly on high-precision hydraulic lubricating equipment at home and abroad.
Tags
oil purification, oil recycling, oil regeneration, oil filtration, oil purifier, oil recovery
Disclaimer:
Submitters of product listings are solely responsible for their content. PRLog can't be held liable for the contents of the product listings.
Report Abuse