2-stage transformer oil recycling machine /oil purification
I. Degassing, dehydration and filtering impurities of transformer oil II. Remove acidity, sludge, free carbon, other soluble oil decay products and discoloration
Contact | More Products By This Company
Images
Click on an image to see larger size image ...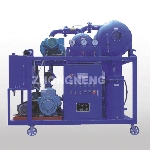 Specifications
| | | |
| --- | --- | --- |
| flow rate | : | 400L/m |
| vaccum degree | : | -0.02 |
| water content | : | 3PPM |
| gas content | : | 2% |
| continuous working | : | 150H |
Details
Contact person:lily
Email:lfywo@yahoo.com.cn
Tel:+86-023-68681153
Mobile:+86-15909333942
msn:lfywo@hotmail.com
skype:sweetlily20101
FAX:0086-23-68060921
Due to the highly hygroscopic nature of the transformer oil, it absorbs moisture from windings, which leads to gradual deterioration of dielectric strength. Also there are some waste impurities, gas contents in the transformer oil which destroy the quality of oil.

--The series ZYD Double-stage vacuum Transformer oil regeneration plant is designed for the following application:
I. Degassing, dehydration and filtering impurities of transformer oil
II. Remove acidity, sludge, free carbon, other soluble oil decay products and discoloration
III. It can vacuum filling oil to transformer, vacuum dry transformer and on-line operation transformer .
IV. It is mainly used for purifying the insulating oil, transformer oil, mutual oil, switch oil, dielectric oil and so on. The standard ZYD system is designed for processing oils in workshops, in storage tanks or directly in transformers (energized or de-energized transformers).

The series ZYD Double-stage vacuum Transformer oil regeneration purifier not only provide dewaters, degases and remove impurities, but also remove acidity, sludge, free carbon, other soluble oil decay products and discoloration.

Feature:
1. This machine is high effective and portable, which is very suit to operate on line. Also it can be used to dry the electric equipment and input the oil into the electric equipment under the vacuum state.
2.The machine adopts the double-infrared liquid automatic controller, sensitive automatic pressure protector and the high effective equipment for degas, so it is easy to operate.
3. High vacuum limiting vacuum less than 5pa, working vacuum less than 35pa.
4. High absorption speed, absorption speed power more than 333L/Sr.
5. Duplex 3D stereo-evaporation technology, eliminating the liquid water very effectively.
6. UK G technology by which the trace water that is show chain, such as dissolved water, can be removed effect.
7. Distinctive removing impurities technology filtering through double FH trapezoidal network and absorbing by high polymer without the mechanical power.
8. Carbon fiber infrared heating system that can make the oil contains zero sum of ethyne after treatment.
9. The oil of any grades can be treated on line at the working site.
10. The Automatic oil purifier model is installed with PLC (Programmable logical control system) which can control the equipment automatically to every stage of its process and ensure its process and ensure its safe operation on site and on line without human supervision.
11. Can be operated both on-line and off-line.
Tags
oil purification, oil filtration, oil recycling, oil regeneration, oil purifier, oil filter, oil recovery
Disclaimer:
Submitters of product listings are solely responsible for their content. PRLog can't be held liable for the contents of the product listings.
Report Abuse