Free Bahamas Cruise
We need loyal, happy customers to tell their family and friends about the wonderful time they had and get the word out about our newly renovated cruise ship!
Contact | Link To Product | More Products By This Company
Images
Click on an image to see larger size image ...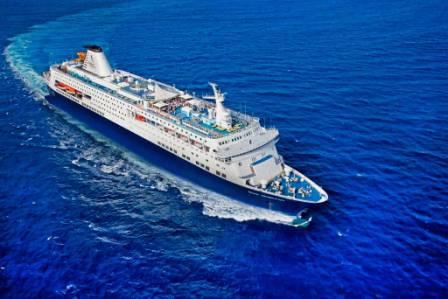 Video
Specifications
| | | |
| --- | --- | --- |
| Roundtrip | : | Palm Beach/Grand Bahama Island & back |
| Free Accommodation | : | comfortable inside stateroom |
| Inclusions | : | all meals, live entertainment & onboard activities |
| Duration | : | 2 nights |
| Taxes & Fees | : | Approximately $59 |
Details
Free Two-Night-Bahamas-Cruise
Caribbean Cruise Line is the only cruise line in south Florida that offers a two-night Bahamas cruise.
The cruise is ideal if you need to get away but don't want to spend a lot of time or money.

Day 1
The Caribbean Two-Night Cruise departs every other day from the Port of West Palm at 5:00pm. Boarding between noon and 3:30pm, that's when the fun begins
with a delicious buffet lunch, drinks by the pool and a full slate of fun activities.

Start the evening with an amazing treatment at the Fountain of Youth Spa, followed by
dinner in one of Caribbean's four restaurants. After dinner, it's off to The View for a Las Vegas type live show with plenty of great entertainment. Now it's time to get serious about the fun (if traveling with children, dropping them off at one of the three supervised and age-appropriate Kid's Clubs is good option).

Try your luck at the spectacular Wynmore Casino with slots, blackjack, poker and many
other games of chance and skill. From there it's back to The View, which is now the hottest nightclub at sea! Dance the night away to the best of live and recorded music.
Ready for bed—we didn't think so. There is more live music and partying going on under the stars poolside. There are also late-night buffets and a number of other lounges to explore.
The Wynmore Casino and The View are open to the early morning hours and await your return visit.

Day 2
The Flagship arrives in Grand Bahama Island, Bahamas at 8am, allowing
for a full day of activities. To get the most out of your day in paradise, we strongly suggest signing up for one of the fun and affordable shore excursions. Choose from among snorkeling with tropical fish above the coral reefs, glass bottom boat tours, sightseeing and exploration, the fun and relaxing beach experience and more. Spend half the day on an excursion and half the day on your own or mix and match excursions for twice the memories.

For the second night, choose a different restaurant for a completely different dining experience. A visit to the spa beforehand will help you look your best, as well as sooth any tired muscles - this is cruise life at its best!
After dinner, be sure to do all of the things you didn't have time for the first night and repeat all of the things you enjoyed most. The show in The View will be new, and the music throughout the evening will get you off you seat and out on the dance floor. There's plenty of time to sleep the next night so take advantage of everything on your last cruise night.
Tags
Free Bahamas-Cruise, Bahamas Vacation
Disclaimer:
Submitters of product listings are solely responsible for their content. PRLog can't be held liable for the contents of the product listings.
Report Abuse