supercard dstwo for DSi,DSL,DS--EbuyLife
EbuyLife.com offering Original R4i,Acekard 2i, R4 DS, M3 Real, IEDGE DS, N5 DS, SuperCard, PSP, PS2, PS3, NDSL, Wii, Xbox 360 accessorie at the lowest price, fast same day shipping!
Manufacturer
-
Supercard DSTWO
Model #
-
Supercard DSTWO
Submitted By
-
EbuyLife (Retailer)
Country
-
China
Category
-
Games
Contact | Link To Product | More Products By This Company
Images
Click on an image to see larger size image ...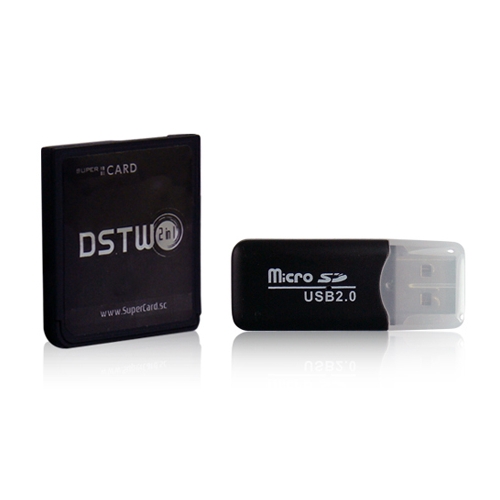 Specifications
| | | |
| --- | --- | --- |
| supercard dstwo | : | 1 |
| supercard ds2 | : | 2 |
| supercard ds two | : | 3 |
| supercard dsonei | : | 4 |
| supercard ds onei | : | 5 |
Details
The Supercard DSTWO Card for Nintendo DS, DS Lite, DSi & DSi XL is a high-end slot-1 flash cart solution that allows you to launch games, run applications and play media directly from the device. Simply place your files onto either a micro SD or SDHC memory card (sold separately), insert the micro SD into your Supercard DSTWO, your cart into your DS, and turn the system on. Playing games and media has never been easier!

The Supercard DSTWO, with its beautiful Evolution (EOS) operating system and a powerful on-board processor offers unique and exciting features that you won't find anywhere else. Features such as full GBA emulation, a powerful new GUI, a real-time guide, an integrated auto-patch database, as well as being one of the few flash carts that allows users to upgrade the core firmware. If you're in the market for a sleek and feature-rich flash cart for the Nintendo DS, DS Lite, DSi or DSi XL, the Supercard DSTWO is the one for you.

Features
The exact feature list for the Supercard DSTWO has not yet been made available, but from previous announcements we know the Supercard DS TWO will feature the following:

-RealTime Functions: RealTime Save, RealTime Game Guide(txt,bmp,jpg) & RealTime Cheat. (More stable, more easy to use, cheat code compatible with R4 and DSTT now)
-Multi Saves (Up to 4 slot), Easy to backup and restore saves.
-Unlimited MicroSD storage space support. SDHC support. FAT or FAT32.
-Multiple languages (English, Simplified Chinese, Traditional Chinese, French, Italian, Korean, Japanese, Spanish)
-Built-in GBA & SNES Emulator.
-Action Slow Motion (4 levels,).
-File Management System (Copy, Paste, Cut and Delete, long file name support).9. eBook (BMP, JPEG, JPG, PNG, TIF, GIF, TXT, PDF).
-Perfect support for long file names;.br /> -Real-time save slot increase to 4 slots. (Exclusive built-in automatic detection of 3D game engine technology, stability, greatly enhanced).
-Give up cheat-code slow motion game play method, improved use of CPU to do operations, "precise control of CPU speed" Achieving the action slowed down, stability / compatibility and better.
-Real-Time Game Guide will support txt formats without conversion, beautify the font is more beautiful; -New UI interface design. Easier-to-use.
-Advanced multimedia playback: native DivX/XviD playback as well as other major formats, similar to the iPlayer.
Tags
Supercard DSTWO, supercard ds two, buy supercard dstwo, supercard
Disclaimer:
Submitters of product listings are solely responsible for their content. PRLog can't be held liable for the contents of the product listings.
Report Abuse