White And Deep Blue School Uniform
Buy Wholesale school uniforms for Japanese Cosplay on Milanoo.com. We offer a great selection of cheap school uniform cosplay for different occasions.
Contact | Link To Product | More Products By This Company
Images
Click on an image to see larger size image ...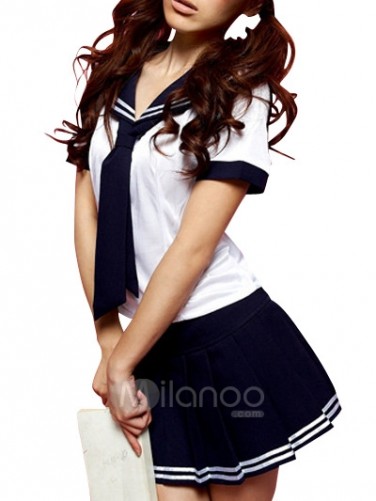 Specifications
| | | |
| --- | --- | --- |
| Price | : | $44.99 |
| Item Code | : | 03330016782 |
| Size | : | XS-2XL, OR Custom-Made |
| Payment Methods | : | Paypal, Wire transfer, West Union, Credit Card |
| Free Shipping Methord | : | Standard International Shipping |
Details
School uniform,includes white short sleeves top with tie and blue mini skirt.

* Cos Texture :Uniform Cloth + Cotton
* Cos Component :Skirt + T-shirt

Customization

We can provide the customization service,and you may also provide us with your detailed size requirements (The more detail the better)for customizing.Quality assurance,please feel free to purchase and ask for our customization.(Be sure that the children's age must be under 15.)
Please illuminate your detailed size requirement in the order.

Milanoo.com--Reliable and professional China wholesale website where you can buy cheap wholesale costume products and dropship them with free shipping anywhere in the world!

Contact Us By E-mail:

* For Customer Service:service@milanoo.com
* For Wholesale Order and Dropship:order@milanoo.com
* For General Cooperation:marketing@milanoo.com
* For Affiliates:affiliate@milanoo.com

Contact Us Via Live Online Supporting Tools:

* 24 Hours Live Chat
* MSN:milanooservice@hotmail.com

Contact Us By Regular Mail

* Headquarters Address:www.milanoo.com
* Qingpi Avenue#319, Cross-Straits Science Park Information Industry Zone, Wenjiang District Chengdu Sichuan China

Contact Us By Telephone or Fax:

* Call Us Mon-Sat: 1 a.m-10 a.m. GMT
* Headquarters:TEL:+00-86-28-655-541-92
* FAX:+00-86-28-617-118-11
Tags
uniform, school uniform, cosplay, cosplay costume, school uniforms, japanese, uniform cosplay, cosplay party, freeshipping, wholesale costume
Disclaimer:
Submitters of product listings are solely responsible for their content. PRLog can't be held liable for the contents of the product listings.
Report Abuse