buy acekard 2i for DSi,DSi XL
Buy cheap Acekard 2i,r4i sdhc,r4i gold,m3i zero,m3 dsreal,supercard dsone,superdcard dsonei,ez flash vi,ez flash 3 in1 for DSi,DSi XL from 52dscard ,buy more and cheap.
Contact | Link To Product | More Products By This Company
Images
Click on an image to see larger size image ...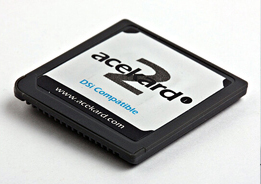 Specifications
| | | |
| --- | --- | --- |
| acekard 2i | : | 121 |
| acekard-2i | : | 131 |
| acekard2i | : | 141 |
| ace kard | : | 151 |
| acekard | : | 161 |
Details
Supports DSi (DS mode) and DS
European, North American, Japanese and Australian DSi support confirmed
Next generation storage device (no boot card required)
No need to flash DS firmware
Same size as regular DS game card. Fits flush into Slot-1.
Uses MicroSDHC cards, allowing for high capacity memory cards: 4GB, 8GB, ...
Built-in NoPass
Low power consumption. Long playing time.
Supports Moonshell and other homebrew. Open I/O interface supported by Chishm's DLDI.
DLDI auto-patcher, no need to patch homebrews
User friendly, multi-language, skinnable interface
Both touch screen and button operation supported
4 level brightness adjustment
DPG Movie and MP3 playback
E-book function
Picture viewer
Tags
buy acekard 2i, acekard 2i, acekard 2i dsi, acekard dsi xl, acekard, ak2i
Disclaimer:
Submitters of product listings are solely responsible for their content. PRLog can't be held liable for the contents of the product listings.
Report Abuse