Model 6283 IP Addressable, LC Duplex Fiber Optic Switch with Telnet Remote
The new QuickSwitch Model 6283 LC Duplex AB Fiber Optic Switch with Telnet Remote Control enables users to remotely access two separate fiber optic networks from one computer.
Contact | Link To Product | More Products By This Company
Images
Click on an image to see larger size image ...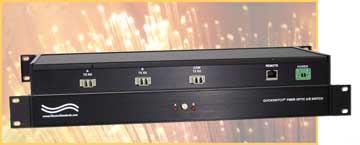 Specifications
| | | |
| --- | --- | --- |
| Wavelength | : | 1310 nm |
| Fiber Size | : | 62.5/125 micron |
| Port Connectors | : | (3) LC Duplex |
| Remote Control | : | 10/100 BASE-T LAN Telnet Command Interface |
| Speed | : | Gigabit data rates |
Details
The QuickSwitch® Model 6283 Single Channel LC Duplex A/B Switch with Telnet Remote allows a device connected to the COM port access to the A or B port. The switch may be controlled locally by manually operating the front panel pushbutton or remotely from the RJ45 Remote Control port located on the rear of the unit. The RJ45 Remote port provides control through telnet commands and allows the user to both control and monitor the switch position remotely.

Features:
IP Addressable.
The switch ports are transparent to all data.
Switch maintains position on power loss and continues to pass data.
Front panel pushbutton control.
Control of the switch position from a 10/100Base-T LAN Ethernet environment.
Remote Control Telnet command interface that allows the user to control switch position, lockout front panel operations and obtain switch status.
Remote control of the switch through the telnet command interface is password protected.
Front panel LED's for display of current position and power status.
MEMS-based mirrors/prism switch technology supports Gigabit data rates.
All A, B, and COM ports are LC, Multimode, 62.5/125 micron, and support a
wavelength of 1310nm.
Custom length rigorously tested and certified LC fiber optic cables
available for your switch installation.

Specifications:
WAVELENGTH: 1310 nm.
FIBER SIZE: 62.5/125 micron.
PORT CONNECTORS: (3) LC Duplex connectors labeled A, B, and COMMON.
CONTROL: (1) Pushbutton allows selection of switch position.
DISPLAY: (2) Red LED's display switch position and power status.
SUPERVISORY REMOTE PORT: (1) RJ45 (F) connector accepts
10/100 BASE-T LAN Ethernet (TELNET command interface).
POWER: UL approved 120VAC, 60 Hz wall mount power module
supplies 12VDC 500mA to the unit.
DIMENSIONS: Rackmount, 19.0" W x 1.75" H x 8.0" D (48.3 x 4.4 x 20.3 cm)
WEIGHT: Approximately 4.5 lbs. (2.04 kg)
Option: Wide Range Power Supply: (Cat No. 517277) CE and UL listed table mount power module, 100VAC/240VAC, 50/60Hz in place of the standard 115 VAC or 120 VAC, power module. Ideal for international applications.
Tags
Fiber Optic Switch, LC Duplex, Telnet Remote, 10/100 BASE-T LAN, MEMS Technology, Gigabit data rates, Fiber Switch Box, AB Network Switch, IP Addressable, Network Switches
Disclaimer:
Submitters of product listings are solely responsible for their content. PRLog can't be held liable for the contents of the product listings.
Report Abuse