Family Forest® National Treasure Edition
A Genealogy, Educational and entertaining resource available to download or order it on CD. Ancestral History to explore and discover in a fun and visual way. Lineage-linked connections to your past are there waiting for you to discover them.
Contact | Link To Product | More Products By This Company
Images
Click on an image to see larger size image ...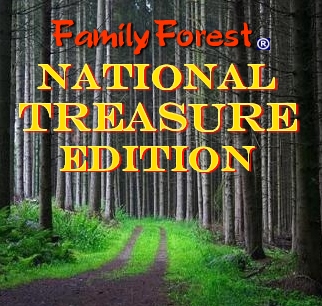 Specifications
| | | |
| --- | --- | --- |
| PC | : | 5M |
| Adobe | : | pdf |
| download | : | 394 MB |
| Weight | : | 1 oz |
| CD | : | 1 oz |
Details
The Family Forest National Treasure Edition download/CD digitally connects the dots of recorded history according to where the experts say they should be connected, and produces new maps of generation-by-generation ancestral pathways that zigzag through thousands of years of recorded history through the lives of actual people.

At the top of the screen in the on the right are two pull-down menus. These will give you a wealth of information.
The Help menu will show how to use Progeny's software, create charts and reports and print. A video tutorial is available online from Progeny Genealogy.
The National Treasure Info pull-down menu will explain how to navigate and search for nuggets of discovery. Please follow your curiosity in the Family Forest® for the delight and enrichment of you and your family.

A wonderful genealogy, educational and entertaining resource.
See more on their website. We welcome you visit and feedback.
Tags
Genealogy, Ancestry, Ancestors, Ancestral History, Descendants, family tree, Family Forest, National Treasure, Download, Lineage-linked
Disclaimer:
Submitters of product listings are solely responsible for their content. PRLog can't be held liable for the contents of the product listings.
Report Abuse