DREAM HAIR EXTENSIONS BUSINESS IN A BOX
Dream Hair Extensions will give you the opportunity to write your own paycheck! It has the A to Z guide on how to start your Hair Extensions business from home as well as the training on how to become a Hair Extension Specialist.
Contact | Link To Product | More Products By This Company
Images
Click on an image to see larger size image ...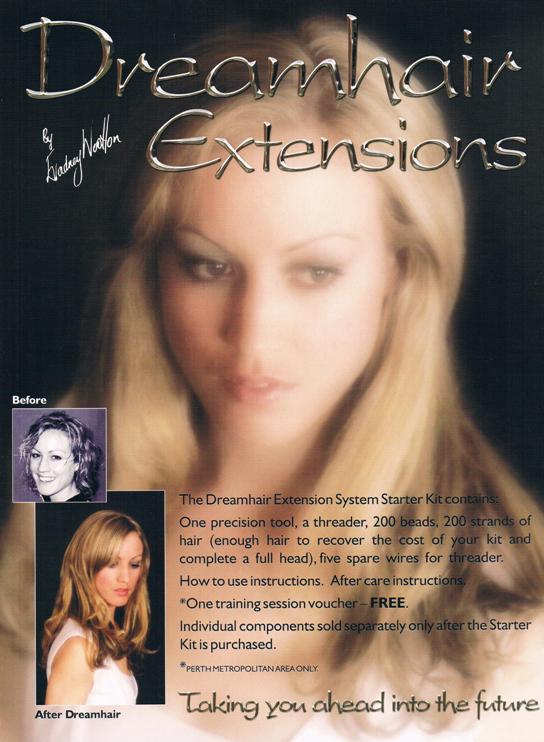 Specifications
| | | |
| --- | --- | --- |
| Remy Hair | : | 1g |
| No Damage | : | no chemicals |
| Easy to Apply | : | light tool |
| Micro Links | : | invisible |
| Designed Tool | : | included |
| A to Z Business Guide | : | business guide |
| No chemicals | : | natural |
| Best Price | : | competitive prices |
| High quality | : | value for money |
Details
Business in a Box contain:

1 Precision Tool to apply the hair
2 Threader
200 Hair Strands (color of your choice)
How to use the course
How to apply the hair step-by-step DVD
1 Hair Care Instruction to give to clients
One Training Voucher
1 e-Manual (electronic manual) on how to start your own business
A BONUS e-Book (electronic book) "The Science of Being Rich"

RESOURCES
Admin – how to organize your home office
Templates of flyer/pamphlet
Pictures of before and after
Marketing your business tips and hints
How to find clients and much more...

And very important... Our contacts – email, phone and address. We are there for you all steps along your path to success!

On your first full job you'll recover the investment you made!

We are proud to teach the SAFE Dream Hair Extensions System that will not damage your hair but stimulate and promote healthy growth, allowing the extensions to remain intact without causing alopecia(hair falling out leaving bald patches) or matting from incorrect sectioning.

Designed by Evadney Wootton, We are a Hair Extensions Supplier in Perth, WA – we also have our well known boutique salon Blackberries© which has operated for over 28 years under the same management.
Tags
human hair, Remy hair, Hair Extensions, Extensions Perth, Hair Wholesale, Extensions Wholesale, Perth Wholesale, Blackberries School
Disclaimer:
Submitters of product listings are solely responsible for their content. PRLog can't be held liable for the contents of the product listings.
Report Abuse