Datex FootPrint 3PL WMS
In third party logistics, proper activity tracking of each individual client is crucial. Through the use of activity-based billing, FootPrint 3PL WMS records transactions and seamlessly integrates them with your ERP applications.
Contact | Link To Product | More Products By This Company
Images
Click on an image to see larger size image ...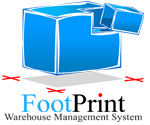 Video
Specifications
| | | |
| --- | --- | --- |
| 3PL Billing | : | Accessorial Charges |
| Tracking | : | Active Directory |
| Barcoding | : | 2D, 3D |
| Activity Billing | : | Labor Management |
| .NET SQL | : | Backend |
| Reporting | : | Chrystal, SQL |
| Inventory Management | : | Manage Inventory |
| Warehouse Management | : | Manage Warehouse |
| RF | : | Motorola, LXE, Intermec, Psion |
Details
Features of FootPrint Warehouse Management System

The FootPrint WMS software is composed of several modules that when combined together produce powerful warehousing software capable of handling all the operations in the supply chain industry including:

- The 3PL software records transaction activity and automatically calculates billing charges for inbound handling and storage as well as renewal storage.

-Additional charges can be added either during receiving, order shipment or independently at any time during the month and accounted for in a later report generation.

-Billing profiles are specific to each combination of client and product i.e. two clients may store the same product, but be billed in completely different ways.

-The activity tracking and costing module tracks function codes and work performed for both system and non-system activities.
Tags
Warehouse Management, Inventory Management, 3PL Billing, Barcoding, .NET SQL, Reporting, 3PL Management, Automation, ePortal
Disclaimer:
Submitters of product listings are solely responsible for their content. PRLog can't be held liable for the contents of the product listings.
Report Abuse