SAHA Swimwear One Strap Bandeau Bikini
Start a new trend with this one strap bikini by Saha Swimwear. Sexy bandeau design with trendy one strap in a beautiful teal color only by Saha Swimwear at SwimsuitNation.com with Free Shipping.
Contact | Link To Product | More Products By This Company
Images
Click on an image to see larger size image ...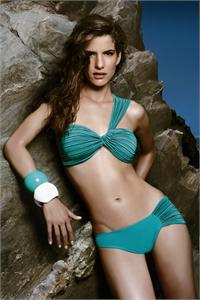 Specifications
| | | |
| --- | --- | --- |
| Bikini Top Style | : | Bandeau with One Shoulder Strap |
| Bikini Bottoms Style | : | Low Rise, Hipster |
| Size | : | Small, Medium, Large |
| Color | : | Emerald Green |
| Designer | : | Saha Swimwear |
| Swimsuit Style | : | Two Piece, Bikini |
| Shipping | : | Free |
Details
Start a new trend with this one strap bandeau bikini in sexy teal by Saha Swimwear.

SAHA Swimwear is a combination of colors, prints, cuts and accessories make the SAHA brand a modern yet elegant choice in which women can feel and appear comfortable.

SAHA Swimwear is a high end Colombian made swimsuit brand for women.

SAHA Swimwear specializes in offering reversible swimsuits that allow different combinations in one bikini. In addition to SAHA Swimwears uniqueness and high end image; bikini styles are seamless.
Tags
Saha Swimwear, one shoulder bikini, Bikini, Swimsuit, Swimwear, 2010 swimwear, designer bikini, Designer Swimwear, two piece swimsuit, bandeau
Disclaimer:
Submitters of product listings are solely responsible for their content. PRLog can't be held liable for the contents of the product listings.
Report Abuse