White iPhone 3G Rear Case for 16GB iPhone 3G
Apple iPhone 3G Rear Case Housing for iPhone 3G 16GB, Restore your old Apple iPhone 3G 16GB Back Panel housing to its former glory with this New iPhone 3G Back Case. Precision molded cases to perfectly fit your iPhone 3G 16GB
Contact | Link To Product | More Products By This Company
Images
Click on an image to see larger size image ...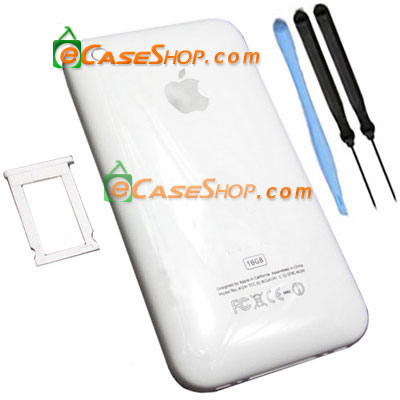 Specifications
| | | |
| --- | --- | --- |
| price | : | $18.99 |
| color | : | White |
| weight | : | 40g |
| iphone rear case | : | brand new |
| iphone 3g case | : | iphone 3g |
Details
White Apple iPhone 3G Rear Cover Replacement For iPhone 3G 16GB
Apple iPhone 3G Rear Case Housing for iPhone 3G 16GB, Restore your old Apple iPhone 3G 16GB Back Panel housing to its former glory with this New iPhone 3G Back Case. DIY your iPhone 3G 16GB Rear Panel case. Free tools for you to install this new Apple iPhone 3G Back Replacement Cover by yourself. This iPhone 3G Back Housing Cover include the Sim Tray. You can click this to visit How To Replace Apple iPhone 3G Housing Cover.



Product Features:

•100% Brand New iPhone 3G Rear Case For Apple iPhone 3G 16GB
•Precision molded cases to perfectly fit your iPhone 3G 16GB
•Replace the used one with this new iPhone 3G 16GB Rear Case,it can perfect fit the iPhone 3G 16GB.
•Free tools for you to install it by yourself.
•iphone 3g Rear Case replacement made of plastic Material
•iphone 3g Back Case housing Engravement 16GB
•Color: White (We have other color in our site: Red, Black, Gold, Silver, Blue, Pink, Orange)
•Compatible With 16GB iPhone 3G.--This iphone 3g back replacement case is ONLY Fit 3G Apple iPhone phone 16GB, NOT iPhone 1ST GENERATION (2G)!
•(Notes: Replacing your phone with this new iPhone 3G Rear Case, the preference to phone shop engineering maintainers or alternatively use the free tools to change it by yourself.)
Package include:

•Apple iPhone 3G 16GB Back Cover Housing White * 1
•Free Tools * 1
Tags
iphone rear case, iphone rear cover, iphone rear plate, iphone rear panel, iphone 3g
Disclaimer:
Submitters of product listings are solely responsible for their content. PRLog can't be held liable for the contents of the product listings.
Report Abuse