8GB iPhone 3G Replacement Housing + Metal Bezel Baby Blue
Brand New High Quality iPhone Replacement Housing For Apple iPhone 3G 8GB, Precision molded cases to perfectly fit your iPhone 3G 8GB
Contact | Link To Product | More Products By This Company
Images
Click on an image to see larger size image ...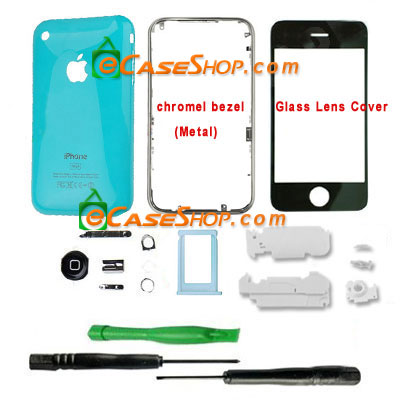 Specifications
| | | |
| --- | --- | --- |
| price | : | $35.99 |
| color | : | baby blue |
| weight | : | 120g |
| iphone replacement | : | brand new |
| replacement housing | : | iphone 3g 8gb |
Details
iPhone Replacement Housing Case for iPhone 3G 8GB Baby Blue
iPhone 3G Replacement Housing with Metal Bezel Baby Blue, This iPhone 3G Replacement Housing includes the Chromel Bezel(Metal), Glass lens Cover and other parts. Change your iPhone 3G Replacement Housing Cover to new Apple iPhone 3G Replacement Housing by yourself. You can click this to visit How To Replace Apple iPhone 3G Housing Cover Replacement


Product Features:

•100% Brand New High Quality iPhone Replacement Housing For Apple iPhone 3G 8GB
•Precision molded cases to perfectly fit your iPhone 3G 8GB
•Replace the used iPhone 3G Replacement Housing with this new iPhone 3G Replacement Housing cover, it can perfect fit the iPhone 3G 8GB.
•Free tools for you to install it by yourself.
•Back Cover made of plastic Material
•Back Cover Engravement 8GB, and we have Back cover for 16GB iPhone 3G in our website
•Color: Baby Blue (We have other color in our site: White, Red, Black, Gold, Silver, Green, Pink, Baby Pink)
•Compatible With Apple 3G 8GB.--This Full Housing is ONLY Fit 3G Apple iPhone phone 8GB, NOT iPhone 2G!
•(Notes: NOT supplied fitting manual. Replacing your phone with this new iPhone 3G Housing Cover Replacement, the preference to phone shop engineering maintainers or alternatively use the corresponding tools to change it by yourself.Before purchasing, customer is advised to search for instruction in Internet to see whether can manage to do it yourself. We do not hold any responsibility of damaging of this item and your own item due to wrong installation)
Package include:

•Full iPhone Replacement Housing Cover for iPhone 3G 8GB Baby Blue * 1
■Back Cover * 1
■Chromel Bezel(Metal) * 1
■Glass Lens Cover(not incldes the LCD Screen) * 1
■Navigation Keypad * 1
■Sim Tray * 1
■Other parts
•Free Tools * 1
Tags
iphone replacement, replacement housing, 3g replacement case, iphone 3g 8gb
Disclaimer:
Submitters of product listings are solely responsible for their content. PRLog can't be held liable for the contents of the product listings.
Report Abuse