PCB Prototype - Gold Finger
PCB Prototype - 45 Degree Angle With 4 Lyers of Gold Fingers
Contact | Link To Product | More Products By This Company
Images
Click on an image to see larger size image ...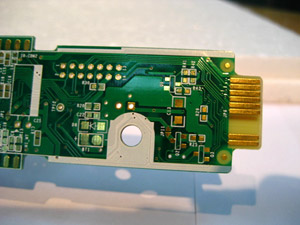 Specifications
| | | |
| --- | --- | --- |
| Gold Finger | : | 45 degree angle with 4 layers of gold fingers. |
Details
Gold Finger

The gold-plated terminal of a card-edge connector. Gold fingers are metallic pads at the edge of a printed circuit board (PCB). They must be inspected after plating to ensure that an adequate coating of gold has been applied. The gold-plated surface is not uniform, but produces a homogeneous texture in the image.

PCB Prototype - 45 Degree Angle With 4 Lyers of Gold Fingers

- 45 degree angle with 4 layers of gold fingers.

Advantages:
- We are able to produce different finishes of gold fingers.
- 6 oz copper, track → 20mil/20mil.
- 3~5 working days for prototype production.
Tags
Gold Finger, PCB Prototype, Blue peelable mask, Circuit Board, Printed Circuit, PCB Fabrication, PCB Gold Plating, PCB Gold Finger
Disclaimer:
Submitters of product listings are solely responsible for their content. PRLog can't be held liable for the contents of the product listings.
Report Abuse