Intelligent Inverter Refrigerator
Energy Star. MEPS Energy Efficient Refrigerator, Tatung Home Appliance Professor For Your Refrigerator Buying, 60% Lower In Noise. 30% Reduction in Power Consumption
Manufacturer
-
Tatung Co.
Model #
-
TR-66NIV
SKU
-
Energy Star. MEPS Energy Efficient Refrigerator
Submitted By
-
Tatung Co. (Manufacturer)
Country
-
Taiwan
Category
-
Electronics
Contact | Link To Product | More Products By This Company
Images
Click on an image to see larger size image ...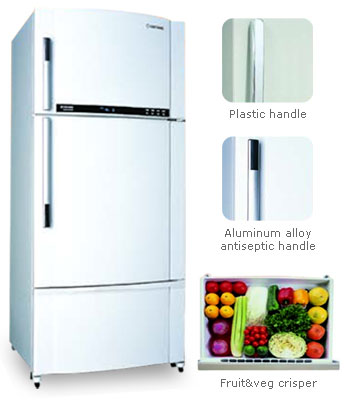 Specifications
| | | |
| --- | --- | --- |
| Dimensions | : | H1805 x W755 x D748 (mm) |
| Key & lock (option) | : | 501kWh/yr |
| Frost-free, inverter | : | 501kWh/yr |
| Power consumption: 50 | : | 501kWh/yr |
| Capacious draw-out cr | : | 501kWh/yr |
Details
Inverter Control Refrigerator.
Cyclopentane. Dynamic Multi-Flow. Energy Star Rating
saving 30% power and money, lower 60% noise

Tatung's TR-66NIV and TR-62NI energy efficient refrigerators are made with inverter compressors, which are environmentally-friendly and energy-saving

Inverter Control System and Technology for electric motors and compressors has started to appear in various markets recently in response to increasing environmental friendly issue, and demand for energy efficient saving, small size and lower noise. In particular, its use is growing in home appliances, industrial equipment and automotive applications. The new inverter helps the system reach ideal temperature quicker by running at a higher r/m for a shorter time and then ramping down to maintain temperature, thus, the energy consumption is decreased due to the increased cycling efficiency and its main power turning on/off frequency could be trimmed accordingly. The technology allows the system to detect subtle fluctuations in the temperature and adjust automatically.

By using only as much power as is needed, the inverter cuts energy consumption by approx. 20%. Your energy efficient refrigerator runs 24 hours a day, seven days a week, it is a great investment over all. In refrigeration sector, energy-saving, high efficient, cost-saving commercial refrigeration technology has been continuously developed and applied. The advantage of inverter-controlled refrigerators is that if you put hot food in the refrigerator and the temperature goes up, the compressor will start processing to lower the temperature in order to keep the food fresh immediately. Once the temperature goes down, the inverter acts smoothly to maintain its temperature in lower frequency, thus the compressor is quieter and the food stays fresh.
Eco-Friendly: Cyclopentane

Cyclopentane can be used as a new foaming agent for rigid polyurethane foam. It is an excellent substitute for CFC products, and recognized by environmental groups as having zero ozone depletion potential. Now it is widely used in producing non-CFCs refrigerators.
nano air purifier

The nano air purifier
Dynamic Multi-flow Air:

Instead of having cold air directly aiming on one spot, 360 degrees multiple air flow functionality ensures cold air is spread evenly in order to keep the food fresh.
Energy Star Rating:

Global warming and climate change caused by increased greenhouse gas emissions are among the most serious environmental, economic, social and political issues ever to be confronted by society. Energy Star is a label that uses less energy and reduces greenhouse gas emissions in Australia. Refrigerator and freezer star rating started in 1986 and from April 1st, 2010, a new energy label design and star rating algorithm will be compulsory. The new star rating algorithm is based on a function of adjusted volume to the power of 0.67 to better reflect changes in surface area by size. Due to recent improvements in insulation and compressors EF, today's high energy star refrigerators use much less energy than current models. With a qualified refrigerator, you can save your energy expense without sacrificing the features you want.
Energy Star, MEPS Refrigerator Expert – Tatung Co.

Established in 1918 and headquartered in Taiwan, Tatung Company has evolved into a conglomerate from its substantial heritage. Tatung specializes in the ODM/OEM business and serves branded customers on a global basis.


# TR-66NIV Dimensional Specifications Dimensions: H1805 x W755 x D748 (mm)
# Key & lock (option)
# Frost-free, inverter control system
# Power consumption: 501kWh/yr
# Capacious draw-out crisper
# Frost-free type
# 3D style and two tone mirror finished foor
# Foldable shelf
# Clear back with built-in condenser
# Power cooler, dynamic flow, twist ice tray
# Adjustable transparent racks
# Transparent chilled room
# Built-in deodorizer
# Door panel & door liner foam together
# CFC free: R134a
# HCFC free: Cyclopentane
Tags
Refrigerator, Refrigerators, energy efficient
Disclaimer:
Submitters of product listings are solely responsible for their content. PRLog can't be held liable for the contents of the product listings.
Report Abuse