Barc Skin Care - Barc Bump Down After Shave - $19.99 at TheMetroMan.com
Barc Bump Down is sold at TheMetroMan.com for $19.99. This after shave is used by many celebrities including Halle Berry. Barc Bump Down is a great after shave for those who have irritation after shaving.
Contact | Link To Product | More Products By This Company
Images
Click on an image to see larger size image ...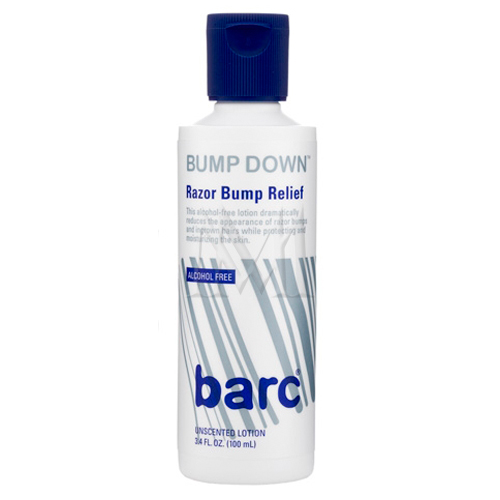 Specifications
| | | |
| --- | --- | --- |
| Brand | : | Barc Skin Care |
| Product | : | Bump Down After Shave |
| Size | : | 3.4oz |
| Condition | : | New |
| Price | : | $19.99 |
Details
Barc Bump Down

3.4 Fl. Oz. (100 mL)

As featured in People, New York Times, Cargo, Life&Style, Vibe and WWD. "Bump Down" Razor Bump Relief contains glycolic acid and triclosan to reduce irritation and ingrown hairs caused by shaving or waxing. Enriched with chamomile and glycerin to keep you hydrated. Alcohol-free and unscented, unlike most razor bump products on the market, so you can stay smooth without the stench. Now that's smooth.

Barc's facial repair treatment reduces irritation and ingrown hair from shaving, preventing new bumps from occurring while healing old ones. Formulated with glycolic acid and triclosan, Bump Down is also enriched with chamomile extract and glycerin to calm your skin while leaving it moisturized.

Didn't we tell you we were serious about skin? We've taken care of the science of it. All you have to do is apply Bump Down to clean, dry skin immediately after shaving and to affected areas twice daily."
Tags
barc, bump, down, after, shave, mens, skin, care, themetroman.com, products
Disclaimer:
Submitters of product listings are solely responsible for their content. PRLog can't be held liable for the contents of the product listings.
Report Abuse