Anthony Logistics Pre Shave Oil
A pre shave oil made by Anthony Logistics. Is to be used prior to shaving to help soften whiskers and help the blade glide across skin without any irritation or burning.
Contact | Link To Product | More Products By This Company
Images
Click on an image to see larger size image ...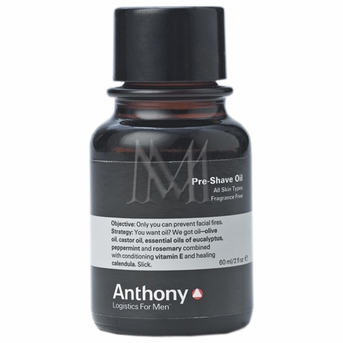 Specifications
| | | |
| --- | --- | --- |
| Size | : | 2oz |
| Type | : | Pre Shave Oil |
| Color | : | Clear |
| Manufacture | : | Anthony Logistics |
| Condition | : | New |
Details
Anthony Logistics Pre Shave Oil

2oz/60ml - All Skin Types - Allergy Tested - Fragrance-Free


Objective:
Only you can prevent facial fires.

Strategy:
You want oil? We got oil-olive oil, essential oils of eucalyptus, peppermint and rosemary combined with conditioning vitamin E and healing calendula, Slick!

Method of Use:
Massage a little oil into beard Top with shave cream or gel, shave.

Why it Works?
Blend of lightweight essential oils, softens the beard and prepares the skin for shaving. Helps prevent razor burn, especially good for those with heavy beards or those prone to razor bumps and in grown hairs.

Pre Shave Oil Tips & Recomendations
Because OO7 never had a secret weapon like this one! Eucalyptus and Peppermint secretly lift up the beard where it needs it most and serve as agents against bacteria.

•Do you prefer shaving out of the shower? The best place to shave is in the shower, when the skin and beard is more soft and pliable. Prefer the old routine? The use of Pre Shave Oil helps jump start the softening of the beard, just like the water and steam would do. Think of it as your shower in a bottle!

•Apply a dime to nickel sized amount to the beard area, taking care to focus on troublesome areas like the lower neck or wherever you get might get razor bump, ingrown hairs, or razor burn.

•A light weight blend of olive and castor oil that soften the beard; applied before your shave product, Pre Shave Oil will protect and soothe the skin while softening the beard hairs. Soft as butter.

Pre Shave Oil Product Questions


When is the best time to shave?
The jury is out; shaving in the shower is the best place for a more comfortable shave. The steam from the shower starts the softening of the beard; combine this with the right Anthony Shave Product and it will be smooth sailing.

What is the best direction shave with the razor?
The best direction to shave is to follow the pattern of the hair growth. Doing so will reduce significantly the chances of razor bumps, burn, and ingrown hair. Keep in mind that the selection of Anthony products ensures that you will find the right products to get the job done right.

Can I use more than recommended?
Less really is better! It's concentrated and designed to work with your Anthony Shave Product for a close, comfortable shave.
Tags
anthony, logistics, pre, shave, oil, themetroman, mens, skin, care, products
Disclaimer:
Submitters of product listings are solely responsible for their content. PRLog can't be held liable for the contents of the product listings.
Report Abuse