Dell Inspiron 6000 Battery
Package Dimensions (LWH) : 240.0 x 83.0 x 47.0(mm) Weight : 1.21 lb Brand :Dell Price: US $59
Contact | Link To Product | More Products By This Company
Images
Click on an image to see larger size image ...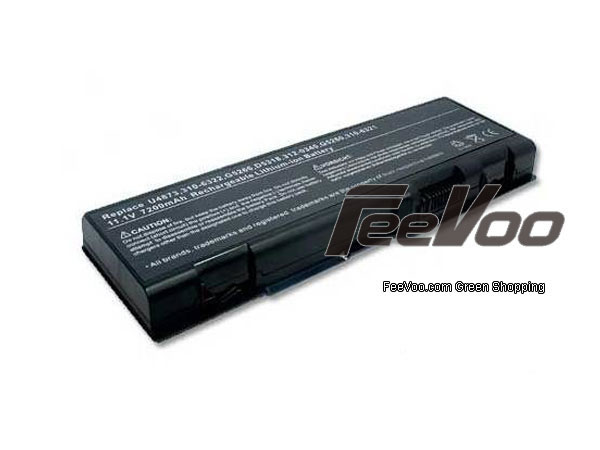 Specifications
| | | |
| --- | --- | --- |
| Type | : | Li-ion, 9 cells |
| Voltage | : | 11.1V |
| Capacity | : | 6600mAh |
| Color | : | Black |
| Price | : | $59 |
Details
Dell Inspiron 6000 Battery Description:


Type: Li-ion, 9 cells
Voltage:11.1V
Capacity: 6600mAh
Color: Black



Works as genuine parts, 100% OEM Compatible!!
Provides excellent discharge characteristics.
Utilizes state of the art printed circuit board (PCB) design to
provide stable and safe performance.
Undergone comprehensive quality testing throughout the manufacturing and assembly process.
Includes a 12-month free replacement warranty for manufacturer's defects.



Charging your New Dell Laptop Battery Before First Use
New batteries for Dell are shipped in a discharged condition and must be charged before use. We generally recommend an overnight charge. Rechargeable Dell Laptop Battery should be cycled -fully charged and then fully discharged - two to four times initially to allow them to reach their full capacity.

Sometimes the device's charger will stop charging a new battery before it is fully charged. If this happens, remove the battery from the device and then reinsert it. The charge cycle should begin again. This may happen several times during the first battery charge. Don't worry; it's perfectly normal.
Tags
Dell Inspiron 6000, Inspiron 6000, dell laptop battery, Laptop Battery
Disclaimer:
Submitters of product listings are solely responsible for their content. PRLog can't be held liable for the contents of the product listings.
Report Abuse