VTC 6200 In-vehicle PC
VTC 6200 is an Intel® Pineview D based In-vehicle PC which is specifically targeted at in-vehicle surveillance applications.
Contact | Link To Product | More Products By This Company
Images
Click on an image to see larger size image ...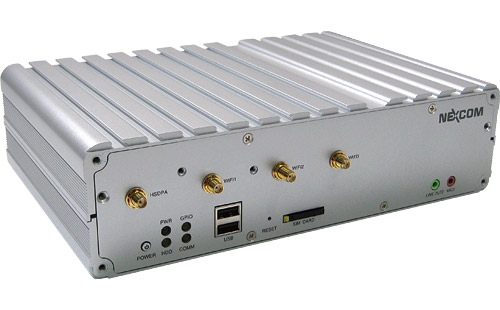 Specifications
| | | |
| --- | --- | --- |
| CPU | : | Intel® Pineview D Dual Core 1.6GHz |
| Communication | : | 3.5G, GSM/GPRS,WLAN, BT |
| Main Chipset | : | ICH-8M |
| Expansion | : | Mini-PCIe, PCI104, SUMIT |
| Memory | : | DDR2 667/800 SDRAM one 200-pin SO-DIMM up to 2GB |
| Power Range | : | 8~60V |
Details
With increased concerns over security threats, organizations around the world are re-considering their security requirements and investing in additional resources to enhance operations. With this in mind, Nexcom's popular VTC series has been extended with the launch of VTC 6200, a dedicated computing solution for in-vehicle surveillance systems. VTC 6200 utilizes the powerful video processing capability of the Intel® Pineview D processor which supports Dual Core technology. With PC1 104 and Mini PCIe Expansion VTC 6200 can be connected to a wide variety of PoE enabled devises such as IP camera and RFID reader. With the inclusion of video capture card, VTC 6200 is perfect platform for video surveillance or mobile VDR applications within vehicles such as trains, buses, boats and trams.

Constructed from only the finest Industrial Components, VTC 6200 is housed in a durable chassis which guarantees operation at temperatures between -30 to 60 degree C. Designed specifically to withstand the rigors of in-vehicle operation, the robust VTC 6200 is designed to meet IP65, MIL and e13 standards. In addition, VTC 6200 can be powered directly from a vehicles battery and is equipped with a "smart power" management feature which prevents data loss if power is disconnected.

For applications that require data transfer and connectivity, VTC 6200 enables 3.5G, GSM/GPRS and WLAN connection. With PCI 104 and Mini-PCIe expansion, VCT 6200 will support additional expansion cards and connection to a wide variety of PoE enabled devices. Other features of this flexible in-vehicle PC include an onboard 1.6 Pineview D Dual Core CPU, Dual VGA output for in-vehicle infotainment applications, 2 x isolated RS-232 interfaces, Isolated GPIO and LAN connection.

VTC 6200 is just part of Nexcom's ultra-reliable range of Mobile Computing Solutions which includes a variety of platforms designed for in-vehicle operation and the popular MRC Series of Semi-Rugged Tablet PC.
Tags
In-vehicle Computer, Car Pc, Telematics, Computer, surveillance, Mobile Computing, In-vehicle, Fan-less PC, Industrial PC, In-Cab PC
Disclaimer:
Submitters of product listings are solely responsible for their content. PRLog can't be held liable for the contents of the product listings.
Report Abuse