REPEL™ Techology Fall Protection Range
REPEL™ Technology Fall Protection Range - uniquely designed harnesses, lanyards and pole straps that repel liquid, enhance durability and are naturally self cleaning!
Contact | Link To Product | More Products By This Company
Images
Click on an image to see larger size image ...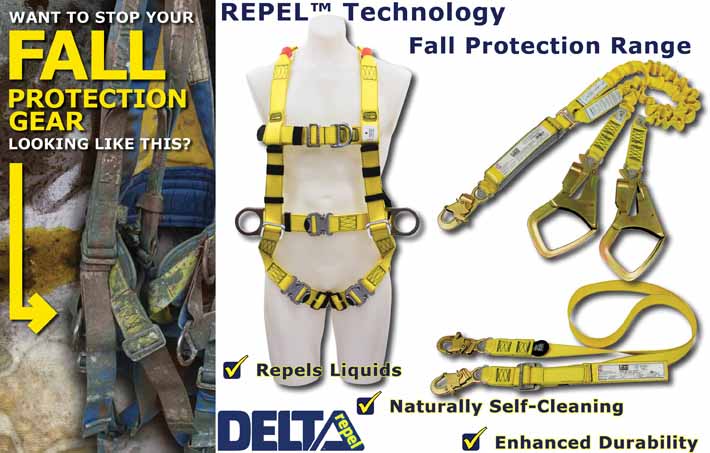 Specifications
| | | |
| --- | --- | --- |
| Standards | : | AS/NZS |
| Harnes Style | : | Delta |
| Lanyard Style | : | Force2 |
| Brand | : | DBI-SALA |
| Webbing | : | REPEL™ Technology Webbing |
Details
The REPEL™ range of products are constructed from a specially designed textile called REPEL™ technology webbing. This unique webbing provides a large number of advantages over traditional webbing products used for fall protection. The technology in the finish forms a fine textile shell that is characterised by a high level of water resistance, a natural-self cleaning effect and a durable protective function. Water or other substances such as oil or dirt simply run off its surface.

The REPEL™ fall protection range is made up of Delta™ REPEL™ full body harnesses, Force2™ REPEL™ shock absorbing lanyards and REPEL™ pole straps. The range incorporates a diverse group of products that caters for a broad range of work applications and needs in the workplace. Industries dealing with Water & Sewerage, Abattoirs, Electrical Utilities, Mining, Oil & Gas and any environment exposed to harsh, wet or tropical conditions will benefit by using the REPEL™ technology range of products.
Tags
Fall Protection, Height Safety, Full Body Harness, Fall Harness, Safety Harness, Repel Webbing, Delta, Force2, DBI-SALA, Capital Safety
Disclaimer:
Submitters of product listings are solely responsible for their content. PRLog can't be held liable for the contents of the product listings.
Report Abuse