Monkey Shaped Toy USB PC Camera Support 1/4" CMOS Image (640x480) Resolution
This USB Web Digital Camera is a PNG (plug and play) product for real-time data transmission to PC via USB port. It has a high resolution and fast transmission rate, and it is also nice –looking.
Contact | Link To Product | More Products By This Company
Images
Click on an image to see larger size image ...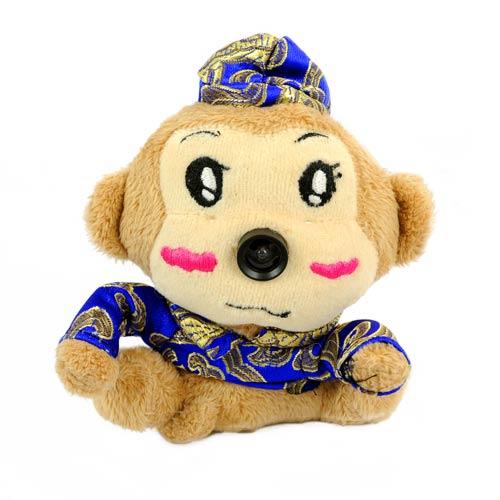 Specifications
| | | |
| --- | --- | --- |
| Price | : | $9.73 |
| Weight | : | 0.1800 kg |
Details
l Exquisite Monkey design looks very cute.

l Adopt innovatory CMOS sensing device.

l This toy PC web camera supports 350K-1300K pixel.

l USB interface.

l Automatic: White balance, electronic exposure, gain compensation.

l Adjust focus; manual.

l Weight: 150g - 250g.

l Size: 5cm - 17cm.

l Packing: 142*142*170mm color box.

l CMOS sensor: 1/4" CMOS image (640*480) resolution.

l Lens: 5 layers glass lens.

l Connector: 1 downstream USB type a receptacle.

l Display color: 24 bit true RGB color.

l Focus range: Manual, 6cm to infinity.

l Exposure: Automatic.

l Power consumption: 110mA@5V operating.

l Storage temperature: -10 - 60℃.

l Operating humidity: 10 - 90% non-condensing.

l Compliances: CE, FCC.

l Warranty: 3 years.

l System requirements: Windows XP/Me/2000/98SE, 1 available USB port, Pentium 450MHz equivalent or above, 64MB RAM.

l Contents: PC camera-k061, user manual, CD driver.
www.chinabuye.com
Tags
Computer, electronics, accessories, USB
Disclaimer:
Submitters of product listings are solely responsible for their content. PRLog can't be held liable for the contents of the product listings.
Report Abuse