3.5mm+USB+WALL+CAR Charger Cable for iPhone 3G 3Gs
3.5mm+USB+WALL+CAR Charger Cable for iPhone 3G 3Gs
Contact | Link To Product | More Products By This Company
Images
Click on an image to see larger size image ...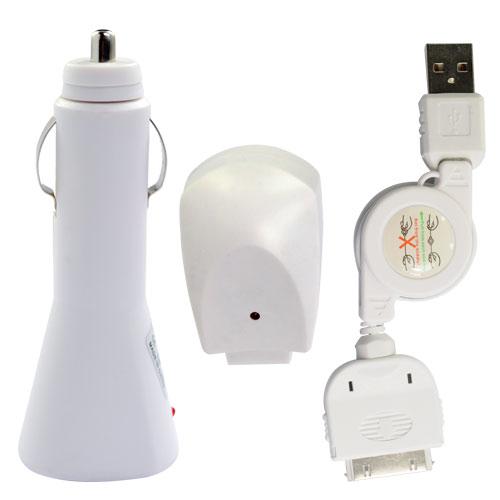 Specifications
| | | |
| --- | --- | --- |
| Price | : | $4.94 |
| Weight | : | 0.0700 kg |
Details
● New generic Universal USB Car Charger Adapter

● Quantity: 1

● Note: Needs to pair with a USB charging cable(comes standard with iPhone or iPods originally).

● Additional USB charging cable is available for purchase separately

● Power to the music with a car charger adapter that allows using your iPod / iPhone / Zune on the road while charging it from your vehicle's lighter jack.

● Compact design is made for easy storage.

● Built-in charging circuitry protects your car against back-flow current and your iPod from excessive electrical loads.

● The charger fits both standard and auxiliary car power outlets.

● Type: generic/aftermarket

● White high-impact plastic.

● LED power indicator.

● Fits into any 12V accessory outlet or car lighter jack.

● New generic USB Hotsync + Charging [2-IN-1] Cable

● Quantity: 1

● Update your iPod at high speed with the latest music and data. The iPod Dock Connector to USB

● Cable offers 400mbs throughput for quick transfer of your music and data to iPod.

● USB cable also has charging capability, in addition to Hotsync.

● New generic Retractable 3.5mm Audio Extension Cable M/M, White

● Quantity: 1

● The innovative retractable design cuts down on travel bulk & ensures the portability of your MP3 player w/ out sacrificing functionality. No more heavy, bulky, tangled cables.

● This 3.5 mm audio extension cable makes hard to reach places accessible

● Color: White

● Length: 5 inches / 0.1m (can be extended up to 32.5 inches / 0.8m)
www.chinabuye.com
Tags
Computer, electronics, accessories, USB
Disclaimer:
Submitters of product listings are solely responsible for their content. PRLog can't be held liable for the contents of the product listings.
Report Abuse