Car MP3 Player with FM Radio Seems Spaceship
Dynamic element for your car, you can choose music and transmitter receiver from car mp3 player conveniently and easily
Contact | Link To Product | More Products By This Company
Images
Click on an image to see larger size image ...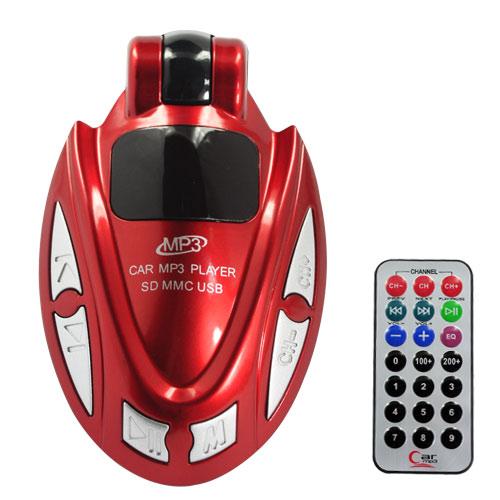 Specifications
| | | |
| --- | --- | --- |
| Price | : | $10.00 |
| Weight | : | 0.0500 kg |
Details
l Car mp3 player remote control

l Frequency Enactment :

l Tiny frequency modulation enactment :

l Transmitting frequency add (reduce) 0.1 MHZ every time when you press the key CH+ (CH-).

l Set frequency directly :

l E g: Input number 1,0,7,9 and then press key CH- or CH SET to set the transmitting frequency into 107.9 MHZ.

l Choose songs directly.

l E g: Input number 6,5 in file to choose the 65th song, car mp3 player will start to play in two seconds.

l Press key PLAY/PAUSE or PICK SONG to start after inputting number if it fails to start automatically.

l Bug Treatment

l Screen is off.

l Check that the FU pipe is still work, if not change it please.

l No noise

l Please check that the volume is not at 0.

l Please check the machine frequency is the same with the radio frequency.

l Downloading Bug

l If you can not download, try to format the disc and download again, please.

l The car mp3 player can support the following cards:

SRS EQ DOLBY SURROUND POWER DC 9-24V USB&FLASH DISKS MMC&SD CARDS
www.chinabuye.com
Tags
Computer, electronics, accessories, Mp3
Disclaimer:
Submitters of product listings are solely responsible for their content. PRLog can't be held liable for the contents of the product listings.
Report Abuse