$13.99 RH EL LED Pink T-Shirt Funny Gadgets Rave Disco Light From ChinaBuye.com
Electro-luminescent shirts are nothing new but one that reacts to the music? Not only is this very, very cool, it also gives a visual rhythm guide to others. Think of it as a public service to good dancing.
Contact | Link To Product | More Products By This Company
Images
Click on an image to see larger size image ...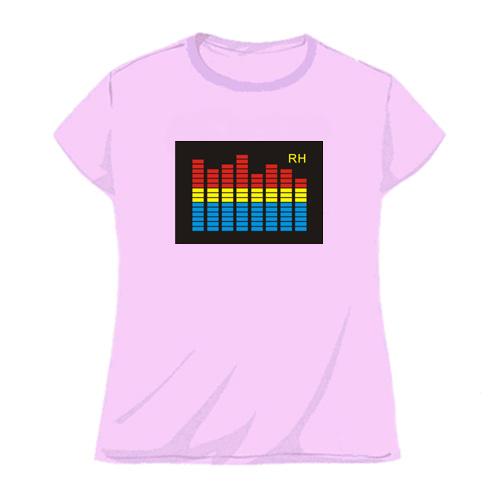 Specifications
| | | |
| --- | --- | --- |
| Name | : | LED EL T-shirt |
| Color | : | Pink |
| Material | : | 100% Cotton |
| Washing | : | Dry clean or hand wash only |
| Power | : | 4 x AAA Batteries |
Details
The Unique-Equalizer Music T-shirt is a shirt with a built in sound sensitive spectrum analyzer. Equalizer is moving according to the sound, when there is sound, the picture will light and flash, the flash will change its brightness according to the volume. Each frequency of music will activate a different equalizer bar, just like the equalizer on your stereo at home! An excellent item/gift for Big Party, Personal Party, Club, Sports areas, DISCO and so on! It has a fully functional Electro Luminescence panel with a battery pack that snuggles discretely into a pocket inside the T-shirt. The end result is a tremendous sound sensitive music T-Shirt that commands attention. How miraculous and fashionable it is!

Specification

The Unique-Equalizer T-Shirt is made from 100% cotton.
1xBattery pack and sound sensor
Panel is powered by a detachable battery pack.
The battery pack can be unplugged for washing the t-shirt.
The t-shirt is hand wash only.
Requires 4 x AAA Batteries (not included)

Using:
Insert standard 4*AAA batteries (Batteries not included)
Slide switch to operate power
Do not bend or apply pressure to the flash panel

Washing:
Dry Clean or Hand wash ONLY
Remove EL panel, battery pack and the whole power cord carefully before washing.
Do not submerge ANY part of the flash panel
Tags
LED, t-shirt, led t-shirt, EL t shirt, LED light, disco light
Disclaimer:
Submitters of product listings are solely responsible for their content. PRLog can't be held liable for the contents of the product listings.
Report Abuse