OOiZiT - New Music Promotion
In a world first, OOiZiT offers unsigned artists the chance to have a hit. OOiZiT combines the capabilities of sites such as Spotify, MySpace, iTunes, Twitter and Facebook under one banner, but with a key difference...
Contact | Link To Product | More Products By This Company
Images
Click on an image to see larger size image ...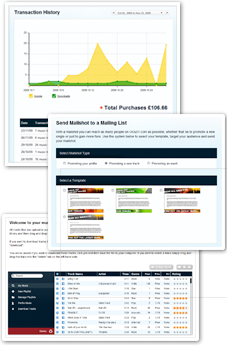 Specifications
| | | |
| --- | --- | --- |
| New music promotion | : | Retain all copyrights |
| Promote your band | : | Sell your tracks |
| Promote your talent | : | No record deals |
| Promote new artist | : | No exclusivity deals |
| Save on costs | : | No studio time |
| UK Top 40 | : | Get yourself charted |
| Earn more money | : | Receive 100% royalties |
| More exposure | : | Unlimited track uploads |
| Unlimited free plays | : | Unlimited video uploads |
| Promote your gigs | : | Unlimited fan base |
| Connections | : | Twitter, Facebook etc |
Details
OOiZiT is the most exciting products for musicians. OOiZiT Premium account users gain access to promo tools, detailed analytics and banners.

OOiZiT offers users the ability to sell their music, keep 100% of the royalties AND chart in the UK charts. All of this without the need for a record label or management company. The site is brand new and already getting a lot of interest from the likes of T3 Magazine, BBC introducing, Which Magazine and The Guardian..

With OOiZiT there is no record deal, publisher or 'middle men' necessary. Never before has the route from bedsit to stardom been so direct. Unlike webcast or MySpace discoveries like Sandi Thom or Lily Allen, 'word of mouth' sensations will not have to sign a contract to reach No.1.

One of its first members, rapper Alex Blood, has already used it as a launch pad and gone on to tour with Mark Ronson and Jay-Z and attracted major label interest.

OOiZiT acts as a virtual one-stop promo shop and social networking site where users can create a profile, share and rate tracks. Fans pay to download tracks from the site. The monetised method of distribution for music-makers redistributes the power in favour of the artists.

There are numerous packages for a user to select from, monthly, quarterly, half year or annual.

OOiZiT Premium promotes your music from just £4.99 per month
Tags
music promotion, promote new talent, new bands, self promotion, promote new bands, new artists, promote new artists, OOiZiT, get charted, sell your tracks
Disclaimer:
Submitters of product listings are solely responsible for their content. PRLog can't be held liable for the contents of the product listings.
Report Abuse