Bowmonk Idle Limiter
Bowmonk Idle Limiter is a retro fit unit that can be installed on any vehicle. The Idle limiter automatically detects how long the vehicle has been left in idle mode and cuts the engine after a user configured time delay sequence
Contact | Link To Product | More Products By This Company
Images
Click on an image to see larger size image ...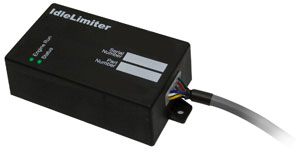 Specifications
| | | |
| --- | --- | --- |
| Size | : | 130 x 65 x 65 mm |
| Vehicles | : | 12 or 24 volt |
| Programmable | : | 1-63 minutes |
| Modes | : | 4 Relay cut-off operational modes |
| Weight | : | 0.95g |
Details
We understand how high the costs of fuel consumption and engine wear can be when running a fleet of vehicles. By limiting the amount of time a vehicle is left to idle, the vehicle owner can significantly reduce these costs with the added benefit of reducing greenhouse gas emissions.

With more and more countries introducing strict environmental legislation requiring carbon footprint management and harsh penalties for polluting, the Idle Limiter is an important tool that ensures your vehicles conforms to vehicle emission regulations.

The Idle limiter automatically detects how long the vehicle has been left in idle mode and cuts the engine after a user configured time delay sequence. The unit gives audio warning of imminent engine shutdown.

The Idle Limiter is easily installed in almost any vehicle and is simple to setup.

Benefits & Specification
•Easy to Install
•Easy to Program
•Saves Fuel
•Low Cost
•Reduces Pollution
•Reduces Engine Wear
•Can be used in electronic or mechanical vehicles
•Programmable for 1-63 minutes
•Tamper Resistant
•4 Relay cut-off operational modes
Tags
idle limiter, fuel saver, reduce emissions, save gas, save diesel, fuel waste, save petrol, idle time
Disclaimer:
Submitters of product listings are solely responsible for their content. PRLog can't be held liable for the contents of the product listings.
Report Abuse