Gary Payne Self Defence DVD
Gary is a veteran of the personal safety industry with over 30 years experience designing and implementing training courses for numerous groups including Police, Military and Security personnel.
Contact | Link To Product | More Products By This Company
Images
Click on an image to see larger size image ...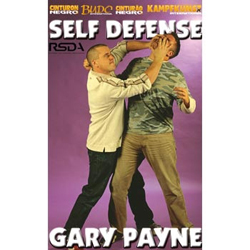 Specifications
| | | |
| --- | --- | --- |
| dvd | : | self defence |
| military | : | combat training |
| martial arts | : | safety |
| fitness | : | personal safety |
| fighting | : | safety skills |
Details
This DVD is ideal to provide you with a direct and effective approach to personal safety training: The correct mental approach, defensive techniques against head braces, frontal strangulation, ambush assaults from behind, multiple attackers, knife defences and assaults whilst on the floor.

Gary's previous clients have included: HM Prison Service, British Army, Centrex National Police Training, British Transport Police – Anti Terrorist Department, National Crime Squad, International Police Instructors from Belgium, Italy, Germany, Canada and Australia, Women's Aid, Martial Arts Academies, Powerhouse Security, British Estate Agents Federation, Ikea, Aztech - International Sales & Distribution, Women in business institute,MAMAA - Mothers Against Murder & Aggression,MAIA - Martial Arts Industry Asociation ,Primary & Secondary Schools.
Tags
self defence dvd, safety training, personal safety dvd, knife defence, gary payne rsda, techniques, martial arts dvd, fighting, military combat
Disclaimer:
Submitters of product listings are solely responsible for their content. PRLog can't be held liable for the contents of the product listings.
Report Abuse